Graduating without sharpening your critical thinking skills can be detrimental to your future career goals. To spare you the trouble, college teachers assign critical response tasks to prepare learners for making rational decisions.
Critical response papers also help professors assess the knowledge of each student on a relevant topic. They expect learners to conduct an in-depth analysis of each source and present their opinions based on the information they managed to retrieve.
This article aims to help students who have no idea how to write critical response essays. It offers insight into academic structuring, formatting, and editing rules. Here is our step-by-step recipe for writing a critical response essay.
What Is a Critical Response Essay?
The critical response essay displays the writer's reaction to a written work. By elaborating on the content of a book, article, or play, you should discuss the author's style and strategy for achieving the intended purpose. Ideally, the paper requires you to conduct a rhetorical analysis, interpret the text, and synthesize findings.
Instead of sharing somebody else's solution on the subject matter, here you present your argumentation. Unlike a descriptive essay, this paper should demonstrate your strong expository skills. Often, a custom writing service can prove helpful if you find your evaluation essay time-consuming. Offering a value judgment about a specific topic takes time to acquire.
Another thing you should consider is not just focusing on the flaws. Though this is not a comparison and contrast essay, you must also reveal the strengths and present them without exaggeration. What matters is to develop your perspective on the work and how it affects the readership through implicit and explicit writing means.
Besides assessing your ability to develop coherent argumentation, professors will also grade your paper composition skills. They want to ensure you can critically reflect on various literature pieces. Hence, it's essential to learn to analyze your topic thoroughly. This way, you gain a deep understanding and can organize a meaningful text.
Critical Response Essay & Other Essay Types
Standard essays contain three main segments: introduction, main body, and conclusion. But any other aspect beyond this vague outline differs depending on the assigned type. And while your critical response resembles an opinion essay since it expresses your viewpoint, you must distinguish it from other kinds.
For example, let's consider a classification essay or a process essay. The first only lists the features of a particular object or several concepts to group them into categories. The second explains how something happens in chronological order and lists the phases of a concrete process. Hence, these variants are purely objective and lack personal reflection.
A narrative essay is more descriptive, with a focal point to tell a story. Furthermore, there's the definition essay, an expository writing that provides information about a specific term. The writer, while showcasing their personal interpretation, must avoid criticism of the matter. Professional personal statement writers can provide assistance in creating the best essay that reflects the writer's individual opinion.
Finally, though you can find some resemblances with an argumentative paper, critical responses comprise two parts. First, you quickly make an analytical summary of the original work and then offer a critique of the author's writing. When drafting, it's advisable to refrain from an informal essay format.
What Is the Structure of a Critical Response Essay?
The critical essay will have a typical structure consisting of five paragraphs. It is the most effective and easiest to follow. Here's a brief demonstration of what you should include in each segment.
Introduction
The introductory paragraph reveals your main argument related to the analysis. You should also briefly summarize the piece to acquaint the reader with the text. The purpose of the introduction is to give context and show how you interpreted the literary work.
Body
These paragraphs discuss the main themes in the book or article. In them, ensure you provide comments on the context, style, and layout. Moreover, include as many quotations from the first-hand text or other sources to support your interpretation.
However, finding memorable quotes and evidence in the original book can be challenging. If you have difficulties drafting a body paragraph, write your essay online with the help of a custom writing platform. These experts will help you show how you reached your conclusions.
Conclusion
This paragraph restates all your earlier points and how they make sense. Hence, try to bind all your comments together in an easily digestible way for your readers. The ultimate purpose is to help the audience understand your logic and unify the essay's central idea with your interpretations.
Writing Steps of a Critical Response Essay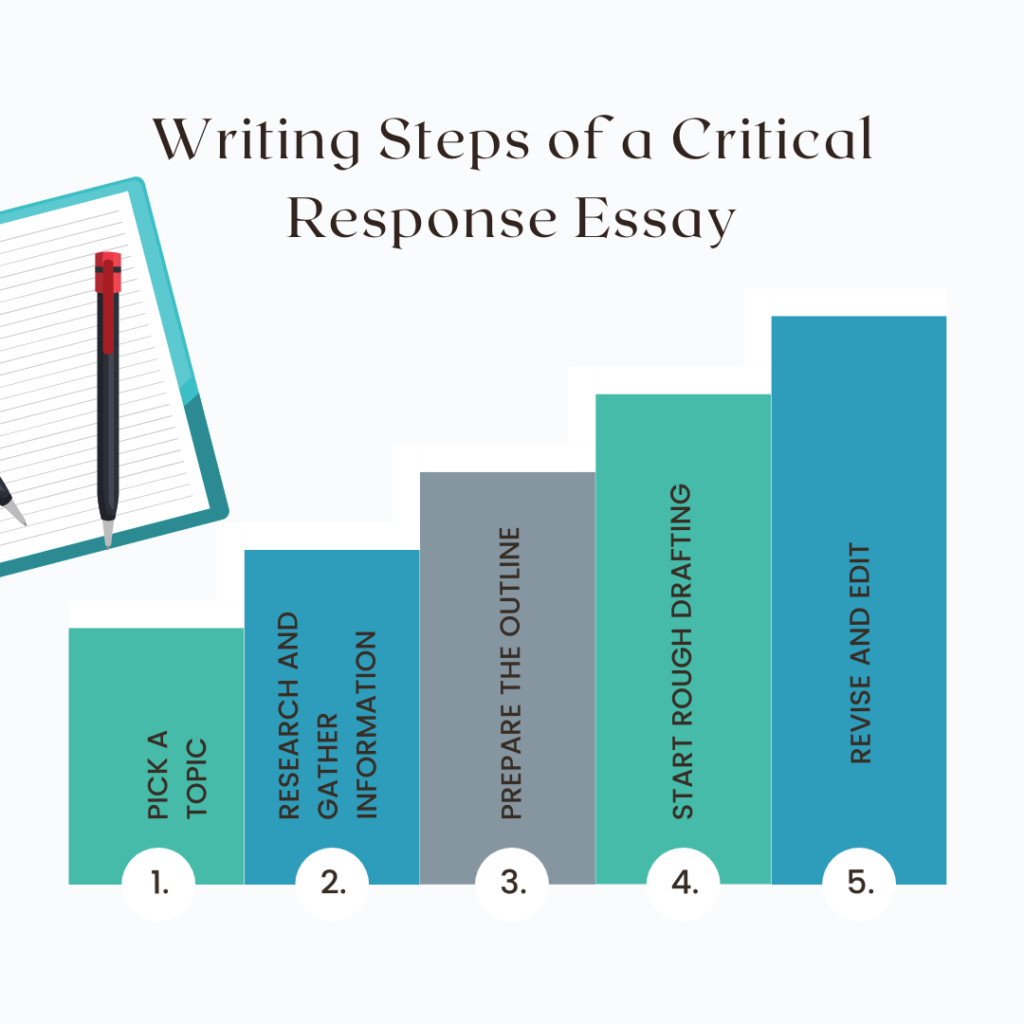 If you wonder how to write a critical response, remember that it takes time and proper planning. You will have to address multiple data, draft ideas, and rewrite your essay fast and efficiently. Follow the methods below to organize better and get a high grade without putting too much pressure on your shoulders.
1. Pick a Topic
Professors usually choose the topic and help you grasp the focus of the research. Yet, in some cases, you might be able to select a theme you like. When deciding, ensure the book can provide several arguments, concepts, or phenomena to review. You should also consider if there's enough available data for analysis.
2. Research and Gather Information
This assignment means you cannot base your argumentation on personal beliefs and preferences. Instead, you must be flexible and accept different opinions from acknowledged scholarly sources. Moreover, ensure you have a reliable basis for your comments.
In short, avoid questionable resources and be accurate when referencing. Finding a single article claiming the concept or idea is correct and undisputable isn't enough. You must read and consult various sources and conduct a meticulous examination.
3. Prepare the Outline
Define your claim or thesis statement and think of a "catch" sentence that will attract the reader's attention. You must also consider titling an essay and giving background data and facts. At this stage, it's also recommendable to establish the number of body segments. This step will help you get a more precise writing plan you will later reinforce with examples and evidence.
4. Start Rough Drafting
When writing your first draft, consider dedicating each section to a distinct argument or supporting evidence that proves your point. Cite and give credit as appropriate and ensure your text flows seamlessly and logically. Also, anticipate objections from opponents by including statements grounding your criticism.
5. Revise and Edit
Typically, your rough draft will require polishing. The best approach is to sleep on it to reevaluate its quality in detail. Check the relevance of your thesis statement and argumentation and ensure your work is free of spelling and grammatical mistakes. Also, your sentences should be concise and straight to the point, without irrelevant facts or fillers.
The Dos and Don'ts in Critical Response Essay Writing
Check your work against the following dos and don'ts for a perfect written piece.
Pick an intriguing title.
Cite each source, including quotations and theoretical information.
Connect sentences by using transition words for an essay like "First," "Second," "Moreover," or "Last" for a good flow.
Start writing in advance because last-minute works suffer from poor argumentation and grammar.
Each paragraph must contain an analysis of a different aspect.
Use active verbs and dynamic nouns.
Ask a friend or classmate to proofread your work and give constructive comments.
Check the plagiarism level to ensure it's free of copied content.
Don't exceed the specified word limit.
Follow professional formatting guidelines.
Your summary must be short and not introduce new information.
Avoid clichés and overusing idioms.
Add the cited bibliography at the end.
---