Purpose and Importance of Essay Title
An essay title bears great importance, which is why a wrong headline choice can make or break the quality of the paper you submit. Why? The reason is simple. The title you choose has to intrigue your professor or other readers. It must make them want to start reading the whole thing to find out what you wrote and how you developed an argument. This is especially important for an argumentative essay topic. That is why the words you use are vital to the success of the entire work.
The title is, in fact, the first thing your professor, client, or other readers see and your job is to get the "This seems very interesting" reaction, rather than "Oh God, this will be boring."
Some may assume that the text is the only thing that matters. Every part of your paper plays a huge role if you want to get positive feedback and a good grade.
Choosing a title that encourages people to read your essay because they're curious also allows you to find fertile ground to showcase your knowledge, wisdom, and writing skills simultaneously. This is particularly important for freelance writers whose success depends on the number of people who open and read their essays and articles.
Connect with a professional writer in 5 simple steps.
Please provide as many details about your writing
struggle as possible.
What's the area of study of your paper?
How many pages do you need?
Done!
What Are the Qualities of a Good Essay Title
Before you start writing a title for your essay, it is always useful to know more about the qualities that every headline should have. When you know all characteristics of good titles, you're bound to make wise decisions and complete this part of the essay writing process successfully.
Our highest-rated tutors & writers for hire

Dr. Joshua

Mandy

Teresa

Valerie
Below we present the most important qualities for the title of your paper:
Eye-catching – think about it. Do you prefer reading content or academic papers with boring headlines, or you're more inclined to opt for something with an interesting, eye-catching deadline? The answer is obvious
Credible – most students and freelance writers make mistakes by trying to make their titles catchy. In such a way, they stray from the truth, thus making the headline inaccurate or a complete, blatant lie. Nothing will anger your professor like a heading that doesn't correspond to the truth
Easy to read – nobody likes complicated and tricky titles, not even your professor. Stay away from strange phrases, complex structures, and even some uncommon fonts when writing your headline
Active voice – if your heading contains verbs, always make sure they're in active rather than passive voice. For instance, instead of "Is regression of society caused by celebrity culture", you should write "How does celebrity culture contribute to the regression of society?".
Brief – whenever you can, make an essay title concise. Long headlines are confusing and don't demonstrate your skills for laconic writing
Accurate – regardless of the topic or niche and under no circumstances write an inaccurate essay title. It would help if you gave your readers a clear idea of what they will read in an essay. Never try to mislead. It can only harm the overall quality of the essay, and your professor will not appreciate it
What Are The Components of the Essay Title?
Our experts state that all types of essays have their outline formula you can use to write a high-quality paper. If you build your heading, you can create your formula too. Below are the main components of your essay's title:
A catchy hook –

introduces the paper in a creative way

Topic keywords –

the "core" of your essay. This component identifies concepts you'll be exploring

Focus keywords –

the "where/when" of your essay. Together with topic keywords, these are vital for your headline and provide more info that makes it professional
Example: Buy Me a Date: Consumerization and Theories of Social Interaction in 21st Century Online Dating Sites
Let's deduce:
Catchy hook – "buy me a date"
Topic keywords – "consumerism, social interaction, dating"
Focus keywords – "21st century"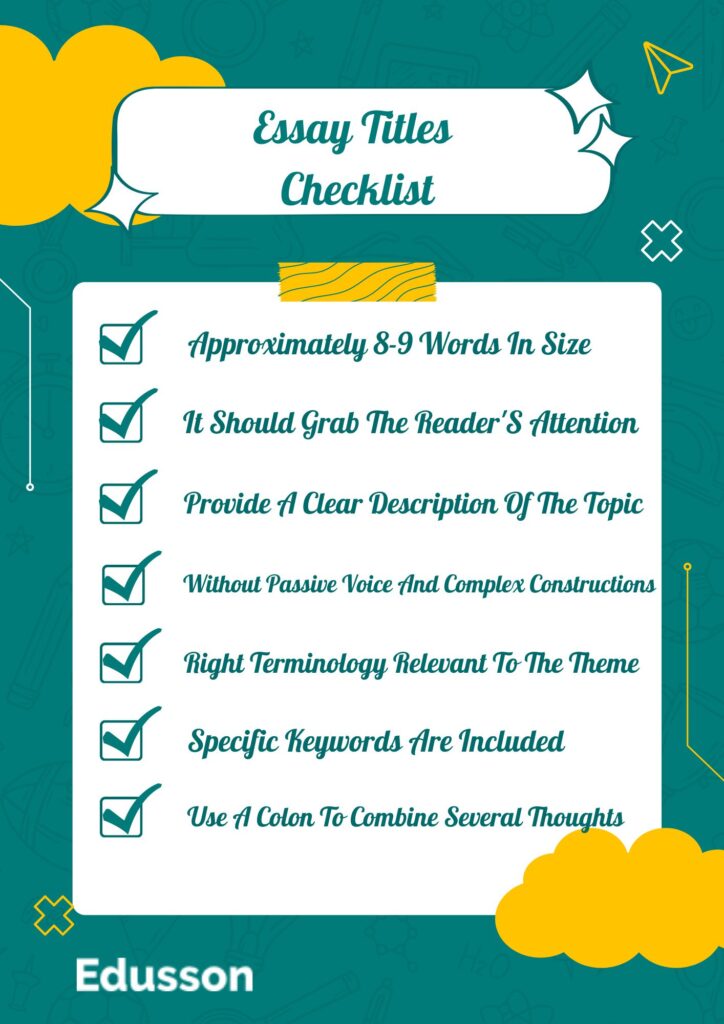 Stuck on How to Title an Essay?
Check out these example essay titles.

How to Create Essay Title
Now that you know the importance of essay titles and the qualities they should have, it's time to learn how to create them. Don't feel bad about yourself if you can't make a good essay title on the spot. Even the most prolific writers experience writer's block when choosing an ideal headline. The writer's block isn't the issue here. It matters how you overcome it and create the title. Here are a few ideas that you'll find useful.
Write Essay First, Title Last
Creating the title and writing your essay may seem logical, but doing the opposite can be more beneficial. Most authors never start with the title. Of course, you may have some working headline in mind, allowing you to focus, develop an argument, and so on. But, writing your paper will give you a clear idea of what to use in your title. As you write and reread your essay, you'll know what to say in the title and intrigue your reader. You'll experience your "Aha; I'll write this" moment.
Another benefit of creating a title is that you won't waste too much time. It is not uncommon for students to spend hours just figuring out the proper title for their essays. That's the time you could have spent researching, creating an outline, or writing. If you still feel confused, you can get professional online writing help at Edusson.
Use Your Thesis
Here is yet another reason to leave the title for the end. Good titles offer your reader (or more of them) the reason for reading your paper. Therefore, the best place to find that reason is the thesis statement you've already written in the introduction. Try working the thesis statement, or at least a part of it, into a title.
Let's say your thesis statement is this: "The American colonies rebelled against Great Britain because they were tired of being taxed, and they resented British military presence in their lives and homes."
To create a title, you may use the alliteration "Tired of Taxes and Troops," or you can opt for "Rebellion of American Colonies against British Rule: Taxes, Troops, and other factors."
Use Popular Phrases and Clichés You Can Re-work
Popular catchphrases that apply to the essay's topic make eye-catching titles, too, particularly when the phrase is amusing or creates an interesting pun. Besides popular phrases, you can also go for clichés and make some tweaks to re-work and adapt them to the topic of your essay and title itself. For instance: "Fit to be tried: The battle over gay marriage in the courts".
Consider the Tone of Your Essay
Of course, the tone of your essay plays an important role in creating a perfect title. If you are writing about a serious topic, don't be witty, silly, or off-the-wall with your headline. If your essay is a personal statement with some anecdotes, you can go for a sparkling yet intelligent title. Always make sure the tone of the title and essay match. Bear in mind that even in amusing titles, you should avoid using jargon. Don't use abbreviations in your headlines as well.
Use Quote or Central Idea
This isn't a general rule, but it is handy when applicable. Your title can feature a quote or a part of it taken from our similar interesting essay topics and ideas you're writing about. If appropriate and relevant to the subject, even a part of a song lyric can serve the same purpose. You can take a fragment of a thought-provoking quote when your essay is about a book. For example: "Toil and trouble: Murder and intrigue in Macbeth".
Sum Up Your Essay in THREE WORDS
This is a useful technique for creating essay titles. All you have to do is to sum up your entire essay or a thesis statement in three words and use them to build the headline, put a colon and then insert what your essay is all about.
How to Punctuate an Essay Title
Many authors find it difficult to punctuate titles in essays. Properly punctuating titles may be tricky, because the standards aren't always consistent. Here are some professional tips from our expert that used to write a college essay for students for appropriately punctuating titles using italics, capitalization, and quotation marks.
Although the criteria for proper title capitalization vary widely, here are a few guidelines. Except for articles and prepositions, capitalize the first and final word in a title and every other word in the title. Some people recommend capitalizing prepositions with five or more letters. Of course, just the initial letter is capitalized.
Use punctuation marks only when essential, not at random. Commas, colons, and semicolons are examples of punctuation marks that should be used when they are required. Quotation marks should be placed wherever one occurs in the text of an essay or on the works-cited page.
If your essay contains a subtitle, place a colon after the title and the subheading on the following line underneath it. Even if your headline and subtitle are very short, use two lines. Your work's additional titles or headers should be bolded but not bigger than the text that follows them. Arrange them to the left and insert them either at the beginning of a section with a period or on their line without a period.
Self-sufficient works or collective essays are italicized. For example, the title of a newspaper might be placed in italics. The title of an article, a song from an album, and a TV episode would be in quotation marks.
Using italics instead of quotation marks consistently throughout your text is critical. The standards for capitalizing and punctuating titles differ in writing. Certain writing assignments need to use one writing handbook's format over another. Therefore, it might be useful to consult your professor to choose the best guidebook to follow for academic work.
Examples of Good and Bad Titles for Essays
Unsurprisingly, the reader is drawn to an essay title immediately. Nobody loves lengthy and clumsy headlines that do not convey the paper's main argument. Pay close attention to the word choice as you angle your work. Make use of your rational thinking and creativity. Our specialists that can gladly help you to write essays for money produced the sections below for further information.
It should be simple to read
Essay titles that are completed yet difficult to grasp will not aid you. As a result, it is better to avoid using difficult terms and ideas. Choose something that every level of the reader may read and understand.
Good: "Joseph Stalin vs. Winston Churchill", "How to Deal with Depression", "Pros and Cons of Freelance".
Bad: "Employees Use Social Networking Rather Than Concentrating During Work Hours", "When Should You Start Giving Your Baby Solid Foods"
It must be short
The title of your essay should not be overly lengthy. It should instead be succinct and straight to the point. Long essay headlines will mislead your readers and not highlight your writing abilities.
Good: "Best App for Writers", "The Effect of Racism".
Bad: "What Do School Shooting Survivors Do When They Return to School"
It must be captivating
If you write a good title, it might become an attention-grabbing aspect. Don't pass up the opportunity to wow your audience right away.
Good: "Suppose This Happened on Your First School Day", "Do You Engage in Any of These 10 Awkward Behaviors?"
Bad: "Everlasting Feelings", "Recent Advances in Kidney Failure Treatment"
Mistakes to avoid
Avoid negative tone and sensitive problems
No dramatic and unclear titles
Don't overuse fonts and punctuation
Be simple and avoid complicated language
Try to sound professional, don't use filler words
25 Captivating Titles For An Essay
Do you want your essay to persuade your readers or professor? Start with the right words in the title. How your words sound matter more than how sensible they are. One of the greatest principles every student must adhere to is to create meaningful and persuasive papers. The first important step is choosing a catchy topic. If you feel lost, you can look up a list of argumentative topic examples from your field of study. A captivating subject can do a ton of wonderful things: increase the readers' engagement, grab the professor's attention, make your paper more interesting, and score higher marks.
What topic idea do you think would make someone start reading your paper immediately? Interesting, confident, creative, striking, bold are some of the words that describe the best essay titles.
Regardless of the paper, you handle, use the following steps on your way to crafting an interesting topic.
Find a creative hook, fact, or quote
Get the right words to describe your idea
Think about a statement that summarizes your paper
Are you stuck wondering how to title your essay? Don't worry – we have a great selection of catchy college essay titles that will capture the reader's attention. Our list is sure to help you make a lasting impression on your professor or any other reader. If you need further assistance, you can also take advantage of our literature review service for the best results.
Argumentative Essay Title Examples
Society Has The Responsibility Of Fighting Anorexia
Every Country Must Activate The Death Sentence
Is The US Education System Of Any Help To International Students?
The Most Corrupt Nations In The World
Is Politics A Practical Art Or An Inborn Talent?
Does Alcohol Destroy The Brain?
The Most Appropriate Age To Vote
Spanish Is Not The Easiest Language To Learn
Do Steroids Help Or Destroy Human Body?
Persuasive Essay Title Examples
Capitalism: The Perpetrator Of Social Development
Are Illegal Immigrants A Big Issue?
Alternative Medicine: Pros And Cons
What Role Do Guidance Counselors Play In The Mental Health Of Teenagers
TV As A Major Contributor To Violence In Society
How Would Superman Be In The Real World?
Horror Movies Must Be Banned For Kids' Sake
Catchy Essay Title Examples
Team Games Should Be Played By Both Boys And Girls
Zoos Vs. Human Prisons
The Good Side Of  War
Marijuana Can Assist In Peacemaking
School Kids Should Stop Wearing Uniforms
The Use Of Filthy Language On The Internet
Technology Is Turning People Into Zombies
The Pros And Cons Of Globalization
Tsunami Is A Death Wave
Bottom line
The success of your essay doesn't only depend on the argument you develop, research you do, the title matters as well. Most students struggle to find an ideal headline, but with a few easy tips and tricks from this post, you can forget about frustrations, save some time, and create a catchy and informative headline to intrigue readers. But if you have some doubts, why not try custom essay writing at Edusson and make sure you have everything in place for a successful essay?
FAQ About How to Title an Essay
Can An Essay Title Be A Question?
Yes, it can be a question. It should be related to the facts presented in the essay and should represent the thesis that the author intends to prove. But don't overuse it. Sometimes it may add to your essay a less formal tone.
How Long Should An Essay Title Be?
Excellent research paper titles include precise terms and phrases that appropriately reflect the article's key topic. Come up with a title for essay that is brief yet contains enough keywords. This will allow others to locate it while searching related databases. A typical rule of thumb is 5 – 10 words.
Should An Essay Title Be Italicized?
If the source is independent, italicize the title. Write the titles of books, films, websites, and magazines in italics. If the paper belongs to a larger piece of work, add the quotation marks. Writers use them for articles, websites, essays, and songs.
---