Crafting a research paper outline is a common, yet arduous part of a student's life. It takes a great deal of effort and time to create a thorough, well-thought out research paper. Fortunately, Edusson.com is here to help.
A research paper has to reflect your position on the topic and persuade the readers in its accuracy and truthfulness.
A research paper outline is a helpful point-by-point plan, which makes your research paper writing services easier.
However, before proceeding to an outline you will have to take some pre-writing steps. They will be helpful in composing the best quality outline and, as a result, a great academic work.
Before Writing a Research Paper Outline
Select an appropriate topic. Selecting a topic is a crucial factor for a successful research paper. Whether you select a topic yourself or not, it should work to your strengths and not weaknesses. An appropriate topic should be interesting to you and appeal to or provoke readers. As to choosing the best essay topics for your research paper, we have professional writers, who offer personalized help or even essay writing service if you need it.
State your argument. After selecting a topic, take some time to figure out what kind of argument you want to support. You need to understand why it is important to you and why it might be important to others. Ask yourself – what is the aim of my thesis statement? Can it provoke a meaningful discussion that might change the world? How can I build a research paper on this argument? As soon as you have answers for these questions, you are almost ready to create a good outline for a successful research paper.
Define the audience. Of course, most of the time only your professor will read a research paper you have created. However, you need to understand readers of your paper. Will the professor support your argument or will he have a counterargument? When defining your audience, you will comprehend what type of language is better to use: will the use of jargon be appropriate or is it better to stick with formal language? The overall style and tone of your research paper depend on the audience it is aimed at.
Conduct a research. There is no research paper without proper and thorough research. You will have to investigate a lot of resources in order to find effective evidence to support your argument. Firstly, you will have to find general information to support your thesis statement, then you will have to dig deeper. You will have to be aware of any counter arguments and evidence supporting them. This way you will master the topic and comprehend the pitfalls of your thesis statement better.
Organize references. References are the evidence of each of your arguments and the research you have conducted. You should prioritize them according to the importance and relevance to your thesis statement.
Writing a Good Research Paper Outline
When you are finished with pre-writing activities, created a good research paper topic, you are more than ready to make an effective research paper outline. An outline is a basement of your research paper from which you build up the whole paper. Each outline consists of three main parts the Introduction, the Body, and the Conclusion. For a successful and high-quality research paper, however, the more detailed outline you use, the better. There are many services that can do the research paper for you, but give a chance and try to make a good outline for your paper by yourself.
The simplest diagram of an outline looks like this:
Introduction
Hook
Research question.
Thesis statement.
Body
An argument to support the thesis.
An argument to support the thesis.
An argument to support the thesis.
Conclusion
Summary of arguments.
Call to action.
A Research Paper Outline: a Step-by-Step Guide
Introduction
The introduction is an important part of every academic work. It determines whether a reader is going to continue with your paper or just give it a rest. An introduction should be intriguing, engaging, and informative, although without giving away too much. There are three main points that make an impressive Introduction:
Hook. Depending on the overall volume of your research paper, a hook can be from one to five sentences long. This the part that persuades readers to read the paper. A hook should be interesting and provoking – you need your readers to want to read your research paper.
Research question.  In most cases, you'll get the research question i.e. what exactly to research and create your paper about, but in other instances, you'll have to do it on your own. Generally, the research question should be concise, on the point, and inform the reader what to expect throughout your work.
Thesis statement. Here you state your argument. You make a clear point about what you are going to discuss and why is it important. Your thesis statement should be clear and simple but never dull. You want the readers to read your paper, especially after the research you have conducted and the materials you have gone through.

Tips for Introduction
Here are some useful things to consider when writing a research paper introduction:
Although introductions of research papers can be somewhat longer than in regular essays, you should still try to keep it short. Don't drag the introduction and take up half of a page or something. Rambling, lengthy introductions will quickly lose your reader's interest. Plus, they are a sign of an unorganized thought.
The introduction isn't a summarized version of the entire paper, it briefly introduces your work.
Never choose a thesis statement you can't support with evidence.
Based on your research, include points or subtopics that you will delve into in the body of the paper.
Subtopics should be associated with the main subject and work to strengthen the importance and value of your thesis statement.
When writing the first draft, you can save the introduction for last (if you find it easier that way). By the time you finish the body and conclusion, you'll get inspired and know what to include in the introductory part of your paper.
Take a notebook and write down different ideas to make an interesting, yet professional introduction. Separate good ideas from the bad ones, and think of your research question and thesis statement. Now, connect those ideas with sentences
Be precise, your introductions should be precise and specific and discuss only the idea you've researched and plan to elaborate on further, don't stray away from the topic and write about stuff that you won't even mention in the body.
Body
The Body is the main part of the research paper outline you are writing. It has no volume limitation, as it is the biggest and main section of the paper. The quantity of paragraphs for this part depends on the overall requested volume of the research paper: the more arguments you have to support the bigger the Body section there should be.
All the evidence you have found during the research should go here. You state each idea and provide efficient evidence. Do not state something you have no way of proving! Each statement you give has to be backed up with proof. Do not forget about valid references and proper citations according to the required paper format.
You can mention counterarguments to your ideas and provide evidence why they are not correct. Opposing facts prove your deep knowledge of the topic and that you have really conducted thorough research. This will show your commitment to challenging tasks and create quite an impressive academic reputation.
Do not forget about the style and tone of your research paper, which you have stated in the introduction. The paper should be consistent from the beginning to the very end. The manner, pattern, and techniques should be the same throughout the paper. However, remember to be creative and use various language techniques to make your paper interesting to read. Take into consideration that there is a high chance that your professor knows everything about the subject. Nonetheless, your paper needs to be addressed to the reader unfamiliar with the topic and the thesis statement of your choice. This again will show your deep knowledge on the matter. Be sure to explain everything clearly without sounding too dull in the process.
Stuck on Your Research Paper Outline?
Check out these research paper example.
Conclusion
The conclusive part of the research paper has to summarize the arguments so the readers digest the main idea and remember it for a long time. The conclusion should not be long but should contain all the important parts to make the whole paper sink into readers' memory.
Summary of arguments. In this short section, you again state your strongest arguments. There is no need to provide a deep explanation of your ideas or evidence to each of them. Nonetheless, you will have to give a general overview of the arguments you used in the research paper.
Call to action. This is the very end of your research paper and it should provoke your readers. Whether it is a call to a discussion or to an action, you need to choose what your final message to readers should be.
Example: Here's how the general outline would look if we're writing about Shakespeare.
Introduction
Body – Shakespeare's early life, marriage, works, later years
Early life, family, marriage to Anne Hathaway, references to his marriage in poems he wrote
Shakespeare's works: tragedies, comedies, histories, sonnets, other poems
Later years: last two plays, retired to Stratford, death, burial, the epitaph on this tombstone
Conclusion
It is essential to bear in mind that every new idea, in this case, an aspect of Shakespeare's life and work, requires a separate paragraph.
To simplify, use the following diagram when you have to work on a research paper.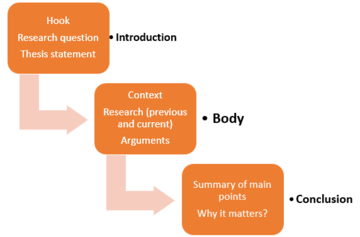 The purpose of a research paper outline is to help you think through your topic carefully and organize it logically before the writing process commences. Since I've already shown how to write the introduction, it's time to give a few pointers for the body and conclusion of your work. So, here we go:
Assume that your reader isn't familiar with the topic and start with basic info first. Imagine you're reading a paper for a five-year-old. Give background, historical context, etc. You don't have to go into the tiniest details, mentioning something useful, and memorable will do the trick too
It's useful to research and include opinions of other, respected historical figures about your topic. For example, what other authors had to say about Shakespeare
Don't forget about conflicting views e.g. some people didn't like Shakespeare and thought he was a fraud, it's useful to mention that as well. Regardless of the topic, there are always pro- and anti- opinions, mentioning both sides
Only include information you can support with reliable and trustworthy evidence. Don't use Wikipedia, blogs, and such, go for journals, books, and respected websites, it all depends on the topic of course
Give credit where credit is due, don't forget to cite your sources
The overall tone of your paper should be formal, don't be scared to demonstrate your vast vocabulary skills
Avoid wordiness, sentences should be concise. Every word you use should only contribute to the overall meaning of a sentence. Don't use "fluff" just meet the word count
When writing conclusions, briefly mention the most important arguments or research, and explain the importance of the subject and what we can learn from it.
Connect with a professional writer in 5 simple steps.
Please provide as many details about your writing
struggle as possible.
What's the area of study of your paper?
How many pages do you need?
Done!
Have Problems With Your Essay?
Ask us "write my essay online", get help from real pros, and boost your grades fast and easily!
Remember that the main purpose of the research paper is to show your abilities to work by yourself and demonstrate the range of your knowledge on various topics. Creating a good outline is essential in further composing of your research paper. Make sure to take notes when conducting research, do not be afraid to ask for assistance, and read additional resources. Alternatively, you could choose to pay to write a research paper and save yourself the time and energy. In such a case, you should make sure to find a reliable and experienced writer who can deliver a high-quality paper.
Our highest-rated tutors & writers for hire

Dr. Joshua

Mandy

Teresa

Valerie
---