Writing a classification essay can be a hard process for many students. Not only does it require a deep understanding of the subject being classified, but also the ability to present it logically.
It may be a time-consuming and challenging process. That's why most students wonder how to write one. For example, what is a classification essay? How to know what to classify? Is there an easier way to write it?
If you're looking to prepare a well-written classification text, then you've come to the right place. In our article, you will see the exact steps of how to write a classification essay. Of course, all of that is backed by professional writers. So read on to find out more!
What Is a Classification Essay?
It is a type of academic paper where the writer organizes or categorizes an object, event, or idea.
Regarding writing, It does not matter what you are writing about, as long as you stick to it. You can categorize things by following these steps:
Sort things into useful categories.
Make sure that all categories follow the same organizational principle.
Give examples that fit each category.
That can often lead to further discussions and understanding of why something belongs in that category rather than another. The key takeaway is that formatting an essay like that is essential. It must be well organized, follow the proper structure, and be easy for reading.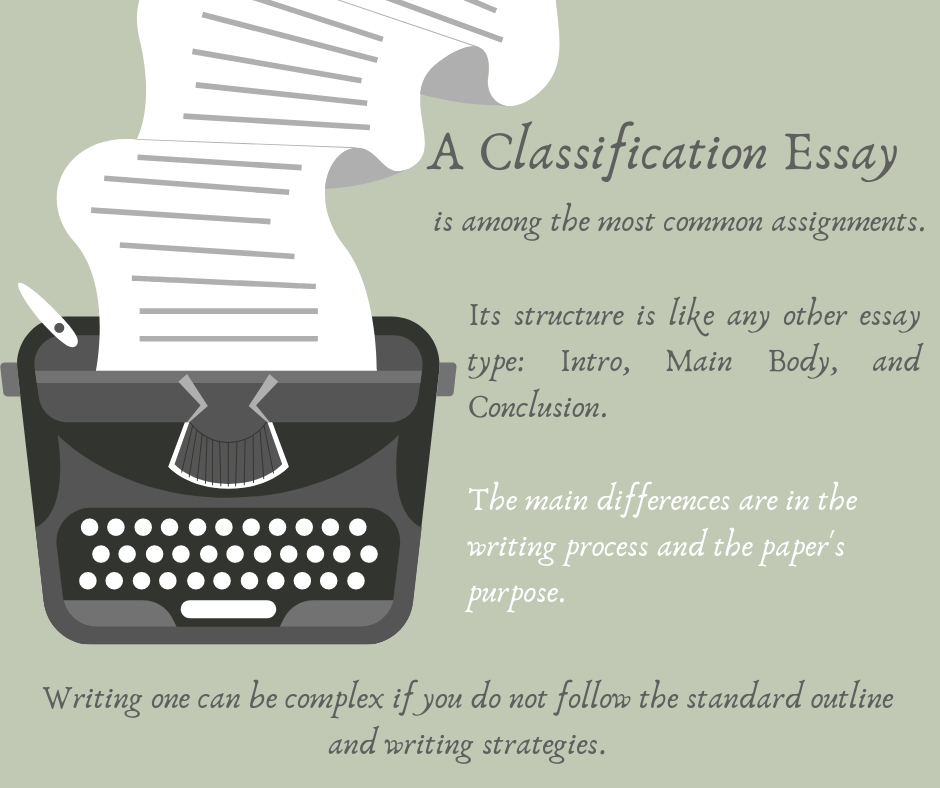 How to Structure Your Classification Essay?
Structuring your classification essay is essential, like with every other type of paper you are doing. Therefore, it is crucial to stick to the requirements, the structure, and the rules by which you have to write your work. So, the first thing you have to do is learn how to write a classification essay outline correctly.
Generally, speaking about the outline, writing a classification paper should be done similarly to the different type of essays. You start with the introduction and thesis paragraphs. That is followed by a body paragraph backing your thesis and finishing with a conclusion.
Introduction and a Thesis Statement
If you are interested in how to start a classification essay, the answer is – a good entry sentence. The introduction paragraph of the classification essay is the most important one. You must make a strong entry and hook the reader immediately, so they want to continue reading.
In the first paragraph of your introduction, you must identify the subject and objects you plan to categorize. Afterward, you have to explain why you wish to classify these kinds of stuff and the general purpose of the essay.
After you do that, it's time for your thesis statement. It must not be something too long or too short. It has to simply highlight the subject of categorizing and state why you do it. The best is to develop the thesis early, as your main body paragraph should back it up. Follow these, and you will easily write a classification essay introduction paragraph.

The Main Body Paragraph
The body paragraph often indicates whether you know how to write a good classification essay. This part of the text aims to support your thesis, so make a transition from it properly. It should provide enough justification for the subject by showcasing examples and shreds of evidence and simply providing relevant information. This way, it will be easy to understand why you are writing a classification essay and why you want to categorize the subjects or objects together.
A text body of a classification essay usually consists of about three to four paragraphs. Of course, you can add more. It depends on how many categories you will have. However, it is vital to make sure not to stuff too much information, as no one would like to read it if it is too long.
Since the paragraphs are separate, they have to describe different subjects that you are categorizing. Remember to make the words flow smoother by using transition words. They will ensure that one can read the whole piece easily.
Conclusion
Knowing how to conclude a classification essay is also important. A conclusion is a part where you have to restate the thesis. Then, you can speak about all the different ways you used to categorize the subjects. It is necessary to note that a conclusion is always prone to bring closure to any topic. It must not state new things, only sum up the earlier described points.
In this part, you simply put all the categories you made in the main text body. Our APA paper writers suggest summarizing your arguments that prove they should be categorized the way you did. Lastly, make sure you do not write the last sentence that will immediately cut the text flow. Concluding it roughly will ruin the whole section. Instead, you can make it seem complete, not like it stopped, while there is more to say. And that is the best idea on how to end a classification essay effectively.
How To Write a Perfect Classification Essay?
Writing can sometimes be tiresome, especially regarding school or uni assignments. Because of that, we have prepared a few tips from the best custom essay writing service to aid you in the process. Use them, and creating such essays will be easy.
Start With Ideas – Pen Down as Many as You Can:
Often, when people start their papers, they do not think about what they want to focus on. For that reason, one of the important steps that give answers to how to write classification essay is to come up with a great idea. You can write down two, three, or even ten ideas on a piece of paper. Then, think about them thoughtfully and pick the one that you will find interesting to categorize. This way, researching information and later doing the classification will be easy.
Have a Thought About Your Categories:
Ensure you have enough understanding about them. You can do that by creating a list of how the subjects are similar. The same goes for the differences. You simply have to grasp how they will be categorized and stick to these ideas. Thus, writing them down will help you during the process of writing.
Research Till You Get To Understand the Subject of Your Classification Essay:
It would be best if you did not write without knowing properly what you are describing. It will be easy to get a bad mark if you just scramble information from the internet.
That is why it is crucial to research your objects to categorize them thoughtfully. Then, find the evidence and proofs that can justify your opinion. Finally, make sure to check your essay for plagiarism when writing by using someone else's information.
Best Transition Words for a Classification Essay
When writing any type of essay or academic paper in general, you should note the use of transition words. They have a crucial role in keeping the sense of the text. In that sense, when it's time to write your college essay, always make a list of such terms. These words make the words go smoother, so the whole piece reads in one continuous, soft, and easy-to-understand tone.
Here are the best transition words you can use in your paper:
The 1st of its kind, the 5th kind of movies, the 3rd kind system
The 4th group students, the 8th group of rabbits, the 2nd group cars
The 1st category of work, the 11th category, the 6th category, and so on
These are the most common and well-fitting ones for that type of essay.
Classification Essay Example
Here is a fast-written sample of an introductory paragraph. First, it shows what we will write about (wolves) and how we will categorize them (social groups). Then we hint at why such groups exist and continue to deepen the topic in the main text body.
"Wolves are an exciting type of social animal. Most of them live together in packs. They share their daily life, emotions, hunger, and all sorts of hardships and joys together. But that does not go for all of them. Some wolves prefer a solitary life and live alone, and some are left alone. Thus, not all wolves live in packs. Some are just born to live alone, and circumstances force others. That creates various categories among them and their social groups, which we will classify."
---