Many students are asked to write a critical analysis essay during their academic life, and many get confused about what it is. If you've ever seen a piece of text and disagreed with the author based on some facts or opinions, you've done half the job already. That is precisely what this kind of text is all about: critically analyzing something and giving your own opinions. Let's go over this kind of paper in more detail to help you write this text quickly and easily the next time you're tasked with it.
What is a Critical Analysis Essay?
A critical analysis paper requires you to critically analyze a topic. The focus of the assignment can be on anything from a movie to a historical event. You can write about something's weaknesses and strengths, or its validity based on supporting evidence. Your analysis paper should cover the subject completely, and you should explain it in detail. Once that is covered, then you should move on to providing your analysis in the form of your opinions. This is not easy for every student though, which is using a service like Edusson is often a good idea to ensure your work gets done on time. Not only will you get an excellent academic paper from a professional author but you'll also get to see what an effective essay looks like.
Difference: Critical Analysis Essay & Other Essay Types
Critical analysis essays differ from other types in different ways. Here are the most important differences to note:
In this text, you give solid points for or against the topic, after carefully analyzing it. By the end of this text, your reader should have a very clear idea of your opinion on the subject being discussed. Other essay types usually don't require such a subjective take on the topic.
This text is written very formally. Even though you're writing about your personal opinions, it is important to keep the tone formal. Other papers may give you more freedom to talk casually.
When learning how to write a critical analysis essay, it's important to note that you shouldn't take too much help from other writers. Yes, you can use their words or research to support your argument but leaning on others' opinions too much is not recommended. This is very different from a scientific or an argumentative paper in which you need to support your claims.
How to Format a Critical Analysis Essay?
Writing a critical analysis essay requires you to follow the right kind of structure. Understanding proper essay structure is difficult for many college-goers. If you're one of them, you can simply buy your essay online and forget the hassle of formatting everything by yourself.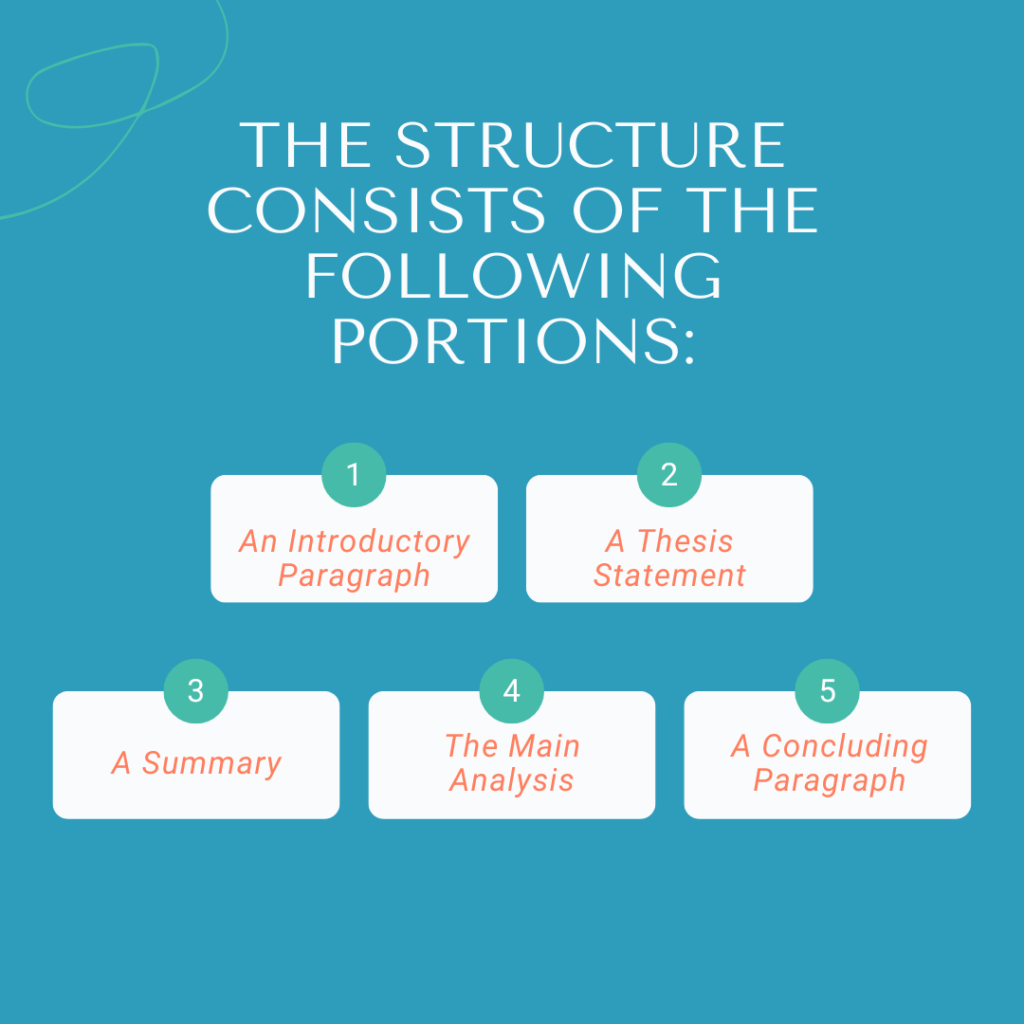 Critical Analysis Essay Structure
Now that you know about the basic portions of this text, let's go over how to structure each portion and what it should contain:
Introduction
This is the start of your text and the part where you need to hook your target audience. Most essay writing guides will tell you that it shouldn't be very long. Make sure this is not more than two paragraphs. This portion should also contain a thesis statement, which lays out your overall opinion which you will then dive deeper into later.
Body
Whenever you write an essay or have custom essays to buy online, most of the importance is given to the body paragraphs. This is the portion of your text where you give your opinions on the subject and try to convince the readers of what you think. It's a good idea to divide the body into multiple passages. Start with a summary of your thoughts and then go into more detail. You must have all the background knowledge needed to make your opinion stronger. You can also use other people's work to solidify your position on the subject. Knowing how to reference everything properly is crucial for any academic text, and this kind of writing is no different.
Conclusion
The essay should end in the form of a concluding statement that brings all your thoughts together. Write some words about the essential insights you've mentioned but remember not to write the same things over and over again. Proudly own your thoughts in this ending portion of your essay.
Writing a Critical Analysis Essay: Main Steps
Crafting this kind of paper doesn't require anything specific other than an actual review of the topic. Like with any good text, be it a classification essay or a critical one, you should follow a structure when crafting this text. Your text should have formal language. It must also be based on a strict analysis of the information presented to you. While you do have the freedom to express either positive or negative thoughts, these should have a solid base underneath them. This base can come from someone's scientific study or article, for example. Don't forget to cite all your sources at the end of your essay though.
Once you have all the information you want to write, creating an essay outline is very helpful before you start finalizing your words. This will give you a plan of action for your essay based on your critical analysis. Don't be afraid to take someone else's opinion on your critical analysis piece. Show it to a friend or your professor to see if they find your thoughts believable. This will give you valuable feedback about your work. Take this feedback into account and make any edits you see fit.
When you think you're done with your work, go over it again and modify any parts you think can be better. It takes a lot of time and edits to come up with a critical analysis piece that can make others think about your point of view and take it seriously.
The Dos and Don'ts in Critical Analysis Essay Writing
There are many things that should be taken into account when writing. Whether it's rebuttal essays you're creating or pieces that rely on critical analysis, keeping in mind the dos and don'ts will help you do a much better job. If you're still unsure of how to write a critical analysis essay, here's what you should and shouldn't do:
The Dos
Analyze the subject carefully and do your research before forming a thought. The more solid your research skills, the more believable your opinion will come across as.
Use formal language and a rich vocabulary to express your ideas.
Be critical of the point being discussed and don't shy away from disagreeing with someone else.
Follow a structure to make your work easily digestible.
Create an outline for your essay before writing the final text.
Cite each source and follow the academic citation style relevant to your text.
Come up with a captivating title that makes people want to read your work.
The Don'ts
Don't rely on casual wording and informal writing.
Don't make arguments you cannot back up either with logic or some reputable source.
Don't get lost in your own thinking and create long passages that are hard to read.
Don't make your concluding passage repetitive and/or arbitrary.
Don't just skim over the subject but rather explain it to show you understand it before going on to give your thoughts on it.
Once you follow these simple tips, you can create excellent critical analysis pieces that showcase your knowledge of the topic and also let you share your opinion on it.
---