Writing essays is a part of every student's life. The tool that can be useful for all composition genres with no limitations is dialogue. Typically, article writing at school and college is related to informative or argumentative intentions.
Dialogues can be included in reflective or narrative texts and creative assignments, such as screenplays. Likewise, if your paper is more on the argumentative side, you may include a dialogue when transcribing an extract from an interview to reinforce your thesis.
To get the highest mark for your paper, it is crucial to know how to write a dialogue in an essay. Keep reading this article to find out how to add it to your paper, whether for academic, informative, or creative purposes.
Usage of Dialogues in Essays
Over our educational years at school and university, we are taught to compose argumentative, narrative, informative, creative, and expository essays. Writing becomes a skill we need to develop to be successful when composing a report.
Quote, text line, or dialogue represents two or more characters talking, and can turn a dull paper into an easy-going and fun learning experience.
And just like when watching a movie, dialogues will have us more engaged in discovering the ending of the tale. Moreover, you will have a strong thesis for persuasive essay texts by including dialogues in them. How is this accomplished?
Dialogue serves more than just fiction, as we stated earlier. They transform information into a fluid and rhythmic piece of writing, providing data on an actual scenario portrayed as a conversation. This results in a direct and captivating piece that will teach and entertain the reader. That sounds like a win-win situation, right?

How to Format Dialogue in an Essay?
Here you will encounter some of the essential rules in terms of punctuation and formatting that should be followed when writing effective dialogue in your article so that it is read naturally. If you are unsure of your profile essay writing skills, keep reading this page to get accurate and precise information for composing your best paper.
How to add dialogue in an essay: you can either use double quotation marks to indicate what someone said, or start in a new line using a Dash followed by the actually spoken phrase every time a new character speaks. This demonstrates that dialogue conversations have started.
"Elisa gave me this purse for my birthday."
—Elisa gave me this purse for my birthday.
—It looks good on you.
—Thank you, I like it a lot.
If you are quoting already, use single quotation marks to add another quotation within. This is useful when you depict someone describing a certain circumstance that happened to them.
"He was eating lunch next to me when Tom came by and yelled, 'let's go outside,' so we went."
Make sure to use closing quotation marks when the character finishes talking. If dashes are used instead, end that person's speech with a complete stop, showing that a dialogue has ended.
"I took my cat to the Vet last night to get a shot. He is alright now."
When a character is quoted, exclamation and question marks should be placed inside the quotation marks. If the exclamation or quotation marks refer to the greater sentence, not the quotation itself, place them outside the quotation marks.
My niece screamed, "let's play hide and seek!".
What was your reaction when your niece screamed, "let's play hide and seek"?.
Do not add a period if the character pauses in the speech; in this case, write the speech, then use a comma to include a remark and add another comma before the last part of said speech.
"I couldn't finish the presentation tonight," he said with a tired voice, "I will tomorrow."
If a quote is too long, for example, longer than a paragraph in the essay, you can break it into two sections to make it easier to read. Such a situation is frequent when you write a narrative text. This type of assignment is often given to college and high school students. And it's one of the most difficult tasks. If you need more confidence in your composition writing skills but still want to get a great mark and impress your teacher, we recommend you to buy narrative essays from professional writers. They will definitely know how to deal with complicated quotes. Here you can see an example of how a big direct quote was shortened to create a new paragraph for the text:
"Christmastime at work is very intense, and we work long shifts. Last year, we launched fifteen new products so that they were sold out during Christmastime. Luckily, it was a success. Our most popular items were: a Christmas cookie-scented candle, a new edition of the traditional elf-pet costume, and a unique knife that cuts the turkey easily and evenly.
I tried the candle immediately and loved the scent; my sister dressed her dog and three cats as elves, poor things, but she looked amused, and my mom tried the turkey knife; she genuinely said it was the best she could use to cut the turkey."
How to Write Dialogue in an Essay?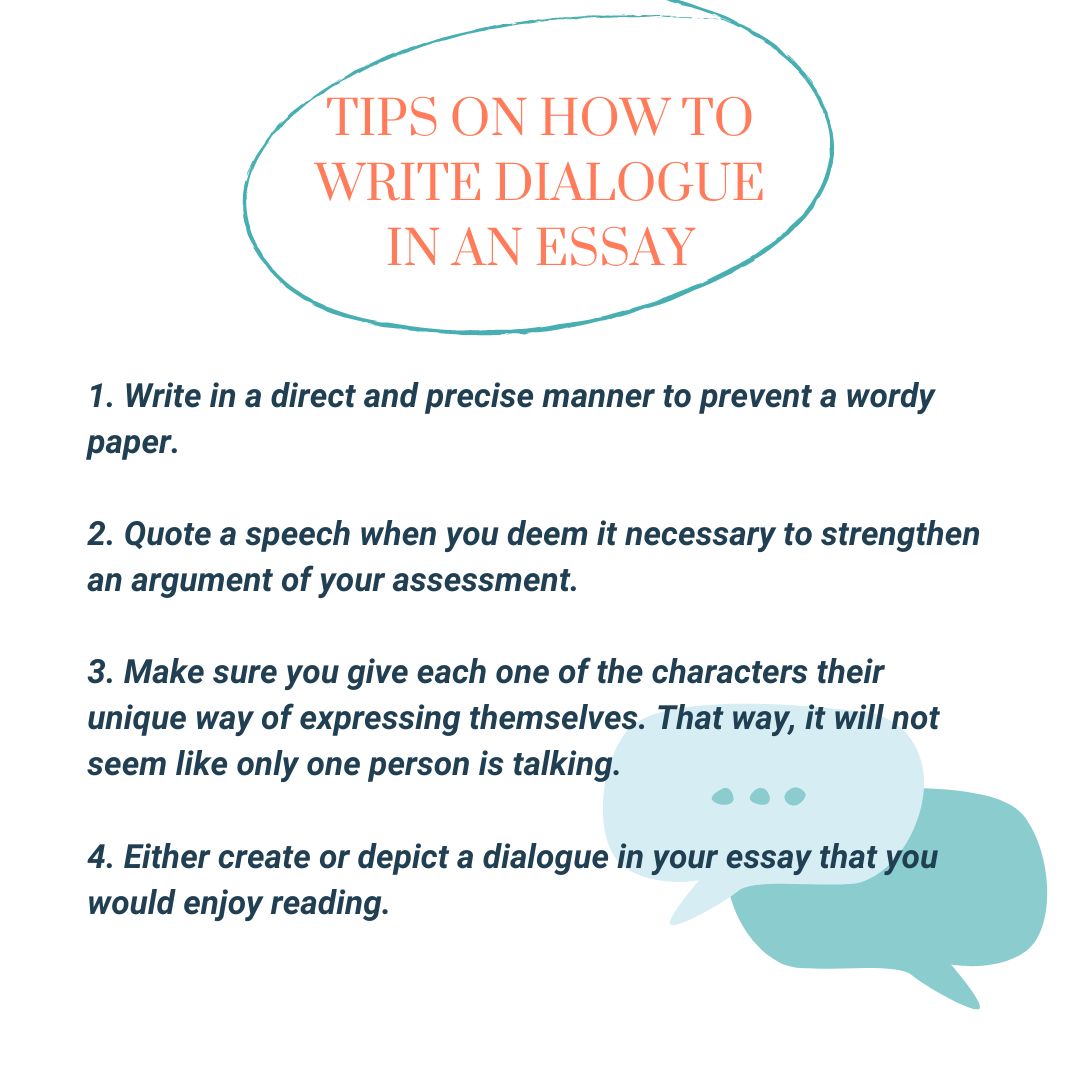 Knowing how to put dialogue in your essay will allow you to bring out your creative side while mastering the skill of showing rather than telling. If you want to know particular features of writing a good process essay, read to master how to write a dialogue and search for relevant sentences. Also, you'll need to craft coherent paragraphs, use speech tags and be aware of the format and punctuation rules when writing dialogue in your paper.
Common Dialogue Mistakes to Avoid
Mistakes are easy to make when we need to learn the rules of correct essay writing, so pay attention to the most common mistakes to avoid delivering an enjoyable and compelling text.
One of the most frequent mistakes students make when they need to learn how to put dialogue in an essay is confusing dialogue with citations. The latter is adequate when directly referencing, word-by-word, other authors to support statements previously made regarding a particular topic. At the same time, dialogues are supposed to deliver information by being creative and motivating the reader to relate to a life situation described in the dialogue.
Citation: also known as direct quotes, is information written by an author and referenced to support a claim.
Dialogue: a speech between two or more characters, often portrayed to captivate the reader, and what is used is only a part of a greater conversation.
Other mistakes to avoid in your text:
Providing too many details and unnecessary talk can be counterproductive. Keep it simple.
Repeating information from one word to another. Describe it in your own words or show it through dialogue formatting. This will make the topic more interesting as the teacher will use their imagination. If you need help with how to do it properly, we recommend asking for help from a specialized platform, such as Edusson.com. Here you will find professional writers who will write your article quickly, plagiarism-free papers with high quality, and at a reasonable price.
Using more dialogue tags than required can distort the readability of the conversation.
Mentioning the characters' names often, which only happens in real talk, decreases credibility.
Incorrect use of opening quotation marks.
Some types of articles would benefit from dialogues to bring more dynamics into them. Check to avoid the mistakes we presented to you, compose creatively, and most importantly, just as dialogue tells a story. It describes a scenery that will make the reader learn through real-life association, so use dialogue when you think it will add value to the text.
Example of Dialogue in an Essay
Here we will give you examples of how to add dialogue to an essay:
Do thorough research on the topic by looking up reliable sources
Use an online plagiarism checker to ensure that your paper is unique
Explain the purpose of your study, providing supporting arguments, examples, and close by validating the thesis mentioned at the beginning.
If the topic you are writing about is rather technical, define the meaning of its relevant vocabulary
Teach the reader, do not assume they know everything. Otherwise, they wouldn't come to read
Verify that your composition is cohesive and informative
Finally, read both your text and dialogue out loud to check they are coherent and eloquent.
Knowing these dialogue rules, you are ready to write with confidence! Whether you are writing for college, creating a dialogue for fun, or just eager to learn about this topic, you already know the essentials of how to write a dialogue in your essay with the correct format and punctuation rules. Additionally, if you are ever in need of professional help for your writing, you can always opt to pay to write an essay to ensure that you are submitting a well-written, high-quality paper.
---