Throughout the course of education, you'll need to write all sorts of papers. Some of them are well-known e.g. argumentative essays, or expository essays, while others are relatively unknown. Process essay belongs to the latter group. While the essay itself is something you've come across on multiple occasions, students don't get to work on this assignment frequently. That's why getting this assignment can be a huge source of stress. This guide helps avoid those stressful times with easy tips and tricks that you need for a good grade.
Definition
A process essay is a typical "how-to" paper that describes some process or workflow, hence the name. The primary idea behind this type of essay is to give a step-by-step explanation of a process that leads to a planned or expected outcome. The paper may revolve around a concrete or precise and an abstract process.
We can divide process essay into two major types:
Directional – provides step-by-step instructions on how to get something done
Informational – analyzes or explains a process
Benefits of Writing a Process Essay
Even though it's not something we usually think about, every essay has its role that goes beyond the arguments or processes you discuss. We are talking about a greater purpose, the impact this essay will have on your skills. Believe it or not, every assignment in school or college has a goal to improve or develop some valuable skills and process essay is not an exception. Here are some skills you can develop with process essay:
Analytical skills – every course of action is logical, has its own flow, and your goal is to represent that. In order to write this essay, you need to think analytically. That's the best way to describe the dynamic of some process and keep the reader's interest. Of course, you can transfer this skill to many other aspects of your life and future employment
Prioritizing – essays require precise expressions, and vague language impairs the quality. While researching you'll come across different info and resources, but not all of them can nor should be included in your paper. In order to make things work, you need to prioritize one piece of information over the other. That way, you'll include valuable info only, without tainting your essay with unnecessary things
Following instructions – every process has its beginning, middle, and end. Each step is equally important. The ability to describe every part of the process in a suitable manner improves your capacity of following instructions; which can come in handy in every aspect of your life
Attention to detail – seemingly unimportant details play a huge role in every process or course of action. While writing the process essay, you need to pay attention to these details, in order to provide clear instructions or step-by-step guides, explanations, etc. At the same time, you're sharpening this skill which can be practical at work (or any other part of your life) later on
The process of writing a process essay is often daunting for many students. But the good news is – you can order an essay online from professionals who can write it for you in a matter of hours. With the help of this essay, you will be able to explain the process of doing something in a clear and understandable way.
Our highest-rated tutors & writers for hire
Dr. Joshua
Mandy
Teresa
Valerie
Areas of Interest
Everything that happens in this universe (or beyond) is a process. The world is comprised of processes and each of them can be described in an essay. Therefore, your process essay can be about:
Technology
Physics
Chemistry
Interpersonal communication
Education
Lifestyle
Industry
Social media
Health
Writing
Process Essay Outline
Wondering how to write a process essay if you've never worked on this assignment before? Or maybe you want to learn how to improve the structure of your paper for a better grade. This outline can help you:
Introduction – although most students don't pay too much attention to the introductory paragraph it is essential. Why? This paragraph sets the tone of the essay and informs the reader about its subject. Your introduction should include:

Hook – the first sentence that grabs the reader's attention
Identification – brief intro to the subject that will be discussed
Thesis statement – announcement of the process (or its aspect) you will explain

Body paragraphs – this is where all the action happens, several paragraphs describe the process step-by-step or explain some process in greater detail. Each paragraph should consist of:

Support (topic) – every paragraph should focus on a specific part of the process and start with a clear indication of a factor you'll discuss
Explain – self-explanatory, you need to explain how it works, what to do with it, and other important info
Evidence – like other types of essay, this type of paper requires using evidence to back up the info you used
Discuss – more information about some particular part of the process, its importance, how it fits into the overall subject, etc.

Conclusion – your conclusion should contain a brief summary of the thesis and the main parts of the process
Writing Tips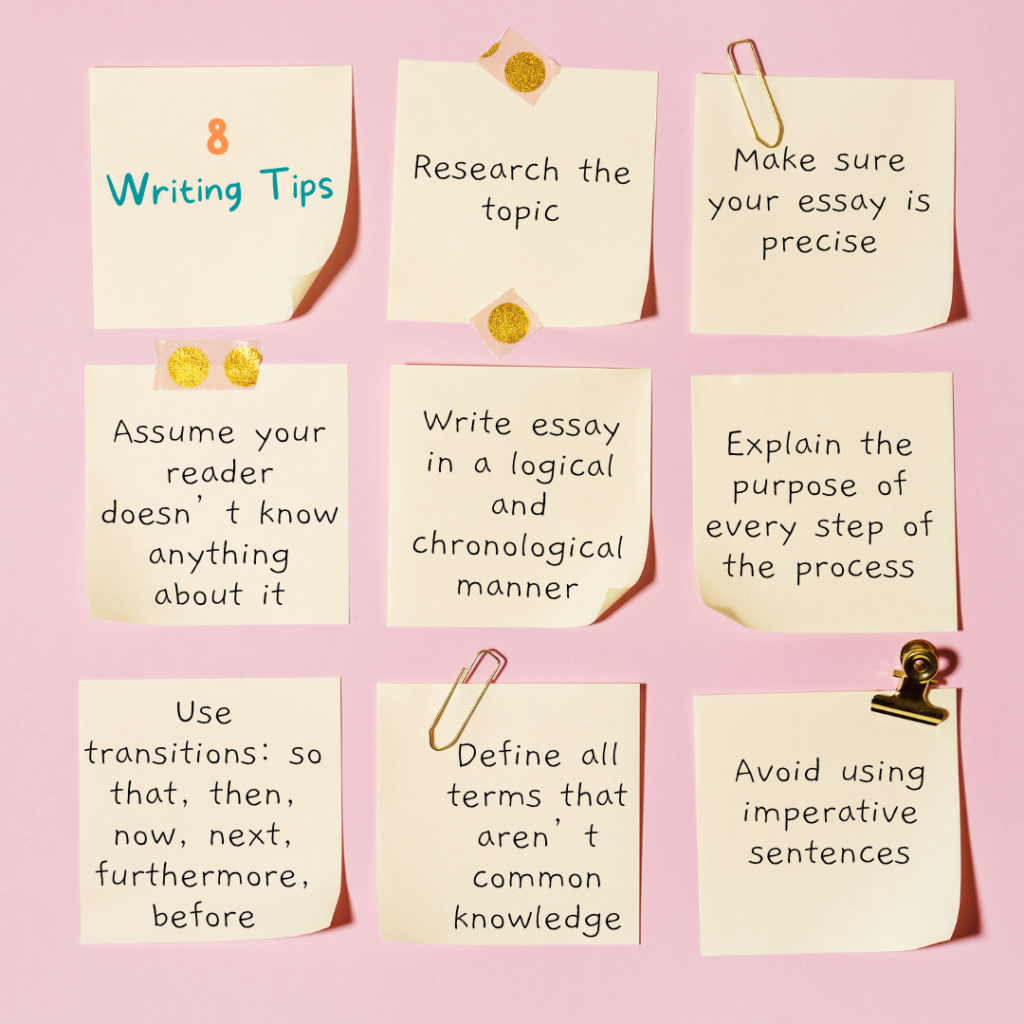 While writing the process essay you can imagine like you're working on a manual (regardless of the topic). The goal of that manual is to explain how some process works for a person who isn't informed about it. Here are some tips that will help you:
Before you start writing, research the topic thoroughly and take notes
Make sure your essay is precise and coherent, but still features details that enhance its quality
Assume your reader doesn't know anything about it, otherwise, you'd skip important details because you think others know it already
Write the essay in a logical and chronological manner, as one step leads to another
Explain the purpose of every step of the process, the reader wants to know WHY it happens
Use transitions such as: so that, then, now, next, furthermore, before
Define all terms that aren't common knowledge
Avoid using imperative sentences because your essay would resemble an instruction manual rather than a proper essay
Topics
An easy way to make a great first impression every time
Becoming a registered nurse
Breaking from bad habits
Car manufacture process
Changing major at college
How and why to change Facebook privacy settings
How to become a real estate agent
How to conduct a census
How to finish all school assignments and still have time to for fun
How to get an A without losing your mind
How to look like a fashionista every day
How to lose weight in a healthy manner
How to overcome insomnia
How to prepare for emergency disasters
How to quit smoking
How to take an amazing selfie
How to train your husky
Introduction to Bitcoin and how to get started
Risk management process
Simple strategy to get over your ex
Simple tips to play Minecraft
The budgeting process
Tips to master League of Legends
Writing a book review
Essay Help
The process of writing a process essay involves extensive research that is designed to provide the reader with a comprehensive understanding of the topic. Therefore, it is important to find a reliable and experienced writer who can write an assignment in a relevant way and add new information to the text.
Most students are used to writing argumentative, persuasive, and other types of papers and process essays may make you nervous, especially if you've never had this assignment before. First of all, it's natural to be nervous. It shows you care! There's a lot you can do to feel better and complete this assignment successfully. You just need the right tools such as:
Essay Topic Generator
You have the freedom to choose your own process essay topic? That's fantastic! You can write about anything you'd like, but to come up with your topic quickly, you can use Edusson Magic Essay Topic Generator. The platform comes with thousands of essay topics that are going to inspire you, for sure. Just visit the website, enter a keyword or search for topics based on category or alphabet.
Essay Examples
The secret to a high-quality essay and good grade is consistency and practice. The practice doesn't just involve writing process essays to sharpen your skills, but reading someone else's paper at the same time. Why? This helps you identify the strengths and weaknesses of some essays in order to create your paper effectively. You get to avoid common mistakes and focus only on those parts that matter. Edusson Essay Examples is an amazing source of essay examples. It's impossible not to learn or feel inspired when you have hundreds of essays to read.

Essay Checker
After you finished writing the essay, you need to edit and proofread it. Some students prefer doing everything on their own, but the problem is that many mistakes are overlooked. Now it doesn't have to be like that. Essay checker called Robot Don enables you to analyze and submit 100% error-free paper. Robot Don evaluates plagiarism, sentence structure, readability, word choice, the frequency of words used, and other aspects of your process essay.
Essay Writing Service
Edusson essay writing service is ideal for students who want to have a custom-made essay sample and for those who don't have enough time to write it on their own. An amazing team of skilled, experienced, and talented native English speakers is here to help you out. All you need to do is to make your order and choose the writer. Edusson is fully transparent and all essays are written from scratch.
Essay Editing Service
Essay editing service at Edusson is ideal for students who wrote the process essay (or some other paper) and just need help with the editing and proofreading process. Edusson gathered a team of talented editors and proofreaders who make sure your essay has no typos and grammar mistakes while improving style, formatting, and organization, among other things.
---