What is a Hypothesis in a research paper?
Every research has many parts, but its vital part is the proper hypothesis construction. A hypothesis represents a question, which includes an expected or predicted research result. When there's no hypothesis, the base for an experiment or research is missing. With that said, it's essential to carefully build the hypothesis. Such writing projects require patience, thoroughness, and persistence. Here, you'll learn what is a hypothesis in research and how to write a hypothesis for a research paper and construct it clearly.
Characteristics of a Great Hypothesis
When you start learning how to write hypothesis, it's crucial to understand what makes it good.
It should be concise, precise, and clear
It should be testable
It should be focused on one problem only
All great hypotheses aren't contradictory
It should be stated simply and clearly. That way, everyone can understand it with ease.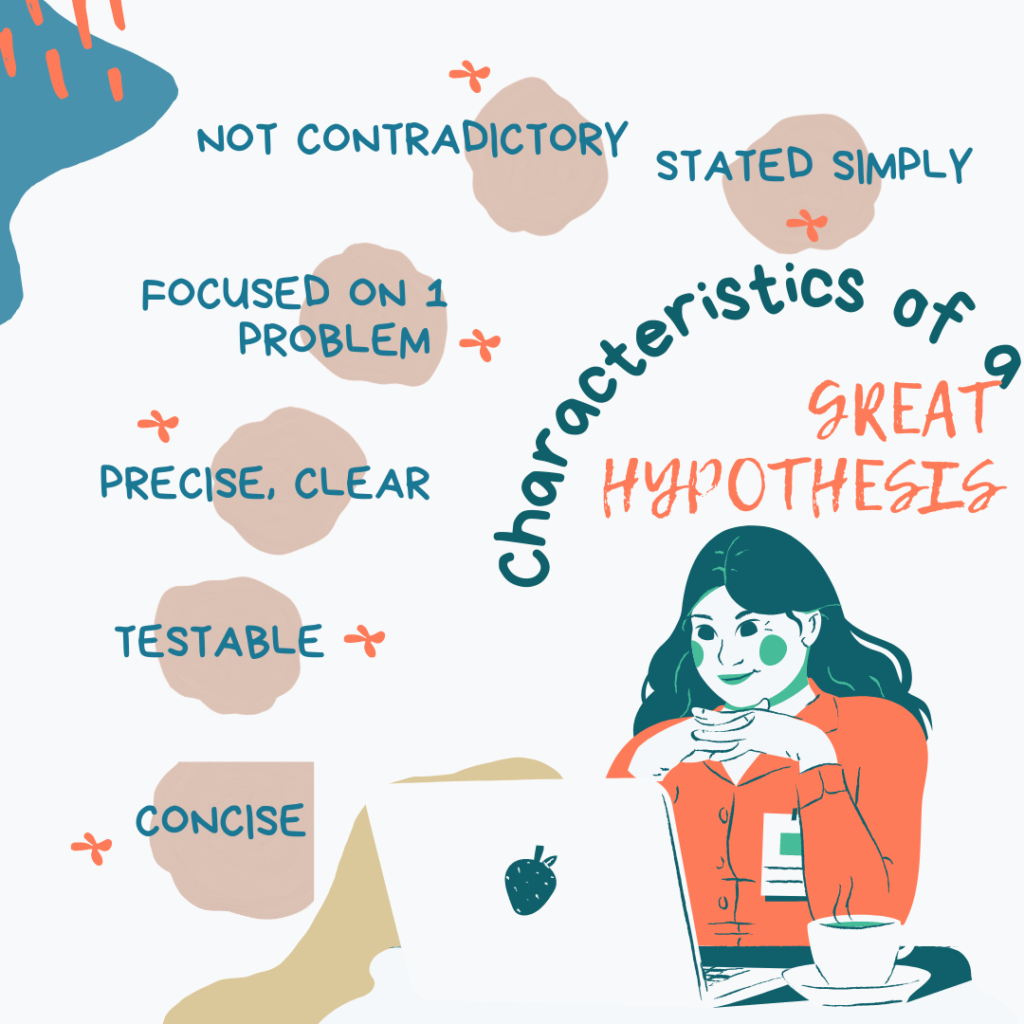 All this may sound too complex. At the start, everything seems complicated and confusing. But most beginnings are like that. Learning other things, including writing an appendix for a research paper are tricky, but once you get into it, it becomes easier. Learning new things, especially of scientific nature, requires effort and patience.
Before you start working on hypotheses, there're several questions every researcher should ask, including:
Is the language used for the scientific reports clear?
How can the thesis be tested? In what ways?
Which explanations should be explored?
Does the theory include different variables, dependent and independent?
Is the idea in conflict with any nature laws?
Every question is equally important. These point to the complexity of the work. For many students, a scientific study is too complicated, more complex than learning how to write a method section for a research paper or learning how to conclude a subject. But diving into it often turns into a fun journey.
Make sure to provide answers for all the above. If something is missing or doesn't seem suitable, it means you'll have to make appropriate changes.
General Types of the Research Hypothesis
There're several general hypothesis types to explore, and those are:
Simple — This type foresees the relation between a single independent variable and a dependent one.
Complex — Focuses on foreseeing the connection between two or more independent variables and two or more dependent ones.
Directional — It focuses on giving an explanation of the expected outcome direction.
Non-directional — It doesn't explain the expected direction of the result.
Associative — It points out how the change in one of the variables affects the other.
Causal — It shows how the manipulation of an independent variable affects the dependent one.
Null — It points out there's no relation between variables.
Alternative — It shows the relationship between variables and identifies the expected research result.
Learning how to distinguish all these types takes time. With proper understanding, the entire study becomes easier. However, some students turn to professional help, and you can do the same — simply buy your research paper online because experienced researchers create them. These researchers possess the knowledge and skills to deliver exceptional work.
Keep in mind that one theory can fall into one of the types mentioned above or into several types. All the definitions previously listed are created to be simple and understandable for beginners.
Main Steps: How to Write the Hypothesis Section of a Research Paper
Here're the footsteps on how to write a hypothesis in a research paper that you should follow:
First, ask a question, for example: "How does exercise affect sleep?"
Start collecting data — take experiments, conduct interviews, and explore academic journals. Gather information from many sources and different sides.
Create the answer to the previously asked question: "Exercise decreases insomnia, along with other sleep issues and complaints, and its effects are similar to results sleeping pills are providing."
Create the hypothesis — It should include variables, outcomes, and who or what is studied. "If a person regularly exercises, they will have better sleep quality and sleep complaints will reduce."
Clarify the hypothesis by exploring the difference or connection between the two groups.
Null hypothesis creation — Finally, formulate a hypothesis — null (that points out there's no evidence that supports differences) or alternative (showing proof there're differences).
The process is complex and requires time, effort, and exploration. It's tricky even for experienced people. That is why many students turn to custom writing service where professionals provide all the work at affordable prices, following the format and other requirements of scientific research.
When you start working on your assignment, ensure to follow all the steps we've listed. That way, you'll ensure nothing is missing.
How to Create a Strong Hypothesis for the Research Paper?
Creating a solid hypothesis requires several things, and those are:
First, state the issue — the topic needs to be clearly defined.
If possible, use the statement that has the If and Then components. In other words, if some specific action is taking place, then the particular result is anticipated.
Variables need to be detected. In the example above, the variables are exercise and sleep.
Learning how to write a null hypothesis in a research paper isn't easy. There're many parts to understand, but carefully following a guide to writing a research paper can be very helpful. Give yourself time and be patient until you figure it out.
As you may notice, there are a couple of crucial steps to follow. One of the key factors is to follow the guide and ensure that you are clear and concise.
Hypothesis Examples
Before you start working on study articles, here're some hypothesis samples that'll help you get a better understanding of how things work:
Brushing the teeth every day prevents the formation of cavities.
Eating broccoli and berries boosts the metabolism.
Students that don't skip breakfast perform better in school than those who do skip breakfast.
When fertilizing the garden, the plants will grow more quicker.
When taking adequate breaks, employees' work performance increases.
When you don't have enough time for a proper study and data collection, there's an option to pay for writing a research paper that many students use, even the top researchers. Everyone needs a break at times. Plus, these services are affordable and tailored to match the budget of a student.
We've created the examples above so every student that is new to this type of work can get familiar with the basics. At first glance, getting it all seems like a lot. But as you keep exploring the examples, things will get easier.
Conclusion
All researches require a lot of effort, especially when you are a beginner. Creating a hypothesis and developing an entire essay about a particular question isn't always easy. You have a lot of analysis in front of you, some experiments, data collection, and more. Even though a tremendous amount of work is required, completing statistical analysis and the project altogether is pretty fun. Remember, if you are busy, professionals can do it for you.
---