The goal of the scientists is to present their findings clearly and to give enough data to replicate the experiment. Scientific papers contain specific sections, usually dictated by the target journal or relevant style guides.
Every research article should include a methods part after the introduction to give the reader enough information to assess the validity of the study. The descriptive nature of this methods section of research may seem like one of the easiest elements. However, it is also the section where details are often overlooked.
We have gathered all the important information and special instructions to help you avoid mistakes and teach you how to write a methods section for a research paper. After reading our article, you will definitely become an expert in writing a methods section for a research paper.
Methods Section of Research Paper: Definition
A research methodology is a precise description of your scientific procedures, which forms a separate section of your report. It supports your conclusions by explaining your techniques and creating a roadmap of how you arrived at your findings. An effective methods strategy describes the tactics you used, explains why you selected the methods you used, and explains in detail how the methods you chose directly led to reporting the answers to the questions you raised.
The Importance of Methods Section
The importance of the research methodology section cannot be underestimated for many reasons. Such great importance imposes significant pressure on the writer. If you find this task difficult enough to cause stress, use this custom paper writing service to obtain a paper with a meticulously written methodology that adheres to all guidelines. Many researchers have done the same and got professional help from our expert network in their field. This way, they were able to obtain very clear and defined methods part which is important because of the following reasons:
It is necessary to show readers how the information was obtained. The reason why is the fact that the method you choose impacts the results and, therefore, how you make interpretations of those findings in your research study. There are many different methods you can choose to write research papers.
Also, the paper should explain the reasons why you chose particular scientific methods or procedures. Sometimes such information is also included in the abstract.
Other scientists who want to continue your work may use your methods. When a novel approach or creative application of an established method has been provided, this information becomes extremely important.
The Methods Section Structure
The easiest way to organize this part is chronological; include all the necessary info, but avoid unnecessary specifics that readers are likely already aware of.
You can also create an outline for the methods section by answering the questions listed below.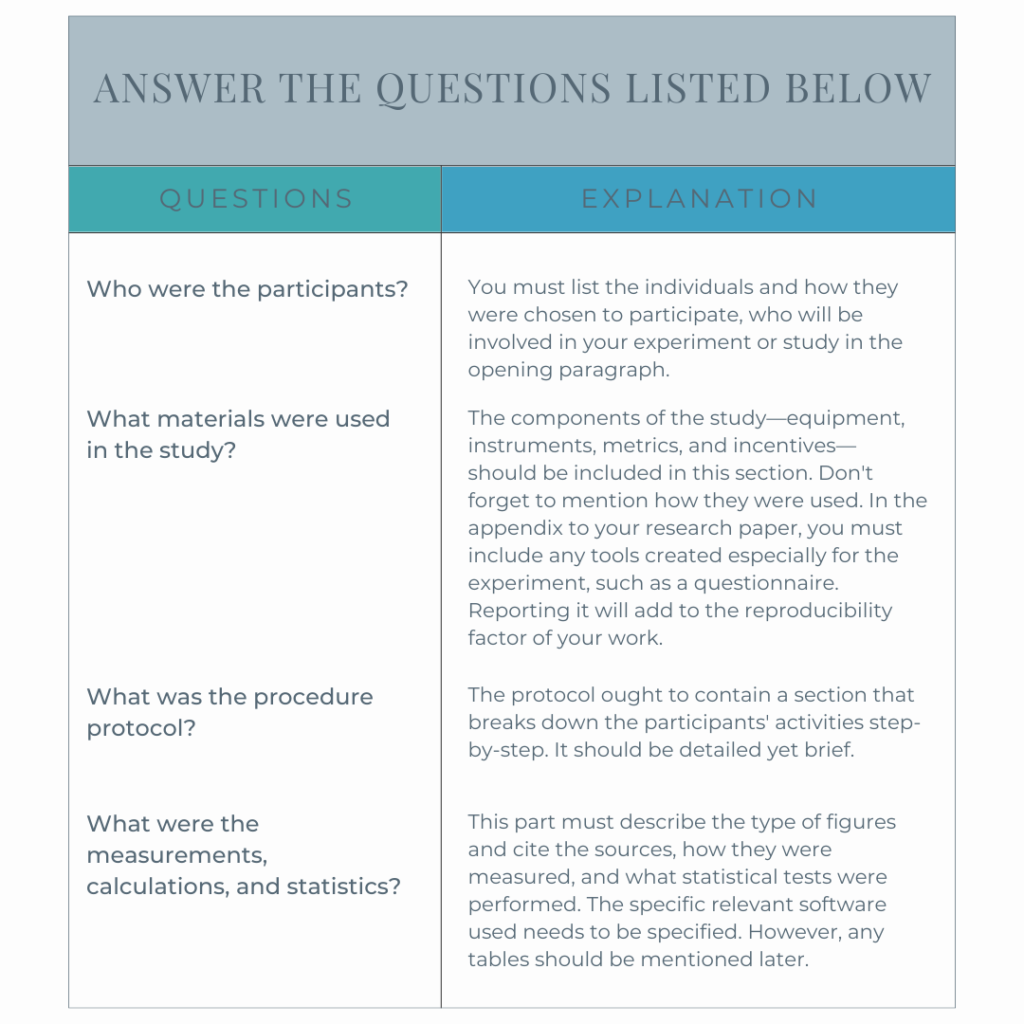 How To Write The Methods Section of a Research Paper?
Describing one's methodological approach is not an easy task. Within this highly individualized process, authors may spend too much time in one step or even skip a few steps entirely. If you are afraid this might happen, find the research paper writing service to go through all stages for you. Our experts will ensure that your work will describe the materials and methods precisely step-by-step. Generally, to know how to write a methods section for research paper, you need to study the following stages of such a process.
Prewrite
Prewriting is also called brainstorming. The idea creation stage is when the author decides what to report and studies the topic. Free-writing, in which the author works without stopping for a given amount of time, is one of the many techniques of prewriting that helps in this step. When this phase is complete, the researcher should have all the information and resources they need and a general idea of the outline.
Draft
The scientist should write a complete first draft during the drafting process, using their notes from the preliminary text as a guide. The goal in drafting is to create a complete draft, so authors are encouraged to ignore spelling or grammatical errors and write quickly.
Revisit and edit
During revision and editing, authors focus on the right content as well as check spelling, grammar, and punctuation. Many researchers find that it can be difficult to see their own errors after going through all the stages. For this reason, many scholars engage in peer editing. You can also ask one of your scientific colleagues to write the research paper for you on our website. You can choose any qualified professional from our database to ensure the necessary level of expertise. Your paper will not only be qualitatively done but also revisited and edited at least two times.
Methods Section Writing Checklist
In order to make it easier for you to check if your scientific paper's methods approach is sound, we prepared a checklist with points that you must not forget to follow:
Have you…
Learned what is the methods section of a research paper?
Checked out examples and related articles? They are mentioned in our research paper writing guide for you to understand how to write a methods section for a research paper. Be sure that all of them have been published and validated so that you will have reliable examples of methods section.
Specified the variables? Include all relevant information, including the control, independent, and dependent variables, as well as any other variables that could have affected the outcome of your study.
Followed the order of the findings? Match the order of specific methods to the order of the outcomes that were attained utilizing those approaches to enhance the readability and flow.
Used the past tense?
Been descriptive? Be succinct while providing enough information so that another scientist might repeat your experiment. Stay away from extraneous details and words unrelated to the experiment's conclusion.
Used an academic tone? Choose words wisely. Use formal expressions instead of slang.
Followed APA format and adhered to specific instructions? Carefully read the instructions section of the target journal and follow the requirements.
Added a methodological conclusion in a research paper to wrap it up nicely? Write a sentence or two summarizing whatever was mentioned before.
Proofread your creation? Make sure your document is free of typos, language mistakes, and spelling and punctuation flaws.
Conclusion
To present the outcomes, you have to initially state how you arrived at those findings. This is the methods of your paper, which is one of the most important parts of the study. Authors should take note of all the facts listed in this article so that they don't encounter difficulties in creating their own scientific work. And if problems occur, you can always turn to professionals.
---