How to compose a short essay? Students of the school, college, or university ask this question more often. This type of work is one of the most popular task examples, and teachers began to use it in homework or an exam paper actively. Writing a short essay format is very useful because it develops students' creativity and thinking. However, for the students, the writing process immediately needs clarification about where to start and how to write it. Therefore, this article will help you understand how to build a short essay and prove that it is not difficult.
What Is a Short Essay?
A short essay is a small work in which the author raises current topics, describes their problems and expresses his opinion and reasoning.
How long is a short essay? Usually, the short essay length is 200–500 words. Essays are often confused with abstracts or articles. However, this type of writing occupies a separate niche in journalism. You can also write essay fast with us and our practical tips. The main difference between the short essay and other works is that the author needs to make clear conclusions in the essay. He only presents his ideas on a specific problem and does not prove them but encourages the reader to think. A short essay is a prevalent type of work when writing exams for university, college, or employment.
Short Essay Structure Format
The most crucial feature of composing short essays in English is that writers must fit all their thoughts and statements into a limited amount of words. It should be at least 200 words, but at most 500. A lot of students ask the question of how many paragraphs is a short essay. This type of essay can have 3 to 5 paragraphs. In general, the structure of the short essay is as follows: introduction, body, and conclusion. Let's take a closer look at each of them to understand the short essay format.
Introduction
An introduction paragraph is essential for your short essay. In it, briefly and clearly describe the problem and your topic. Formulate a strong thesis clearly. The introduction's most important task is attracting the reader's attention. You have to make him want to read your text to the end. Therefore, the first sentence of the introduction should be intriguing. It can be a quote, a fact, or an unexpected statement. Remember to keep rulings short and to the point.
Main part
The central part of the text can be divided into three body paragraphs. They should contain strong arguments in support of the thesis that you have already outlined in the introduction. In the first section, your ideas should be the strongest. Reinforce them with facts, and refer to already known statements. Remember to use connecting words between sections. They will smooth the transitions between chapters and establish a connection between them.
Conclusion
The conclusion is the final part of the entire text. It must be drawn up in one paragraph. In this chapter, summarize all the information in the central part. Remember to recall a thesis statement from the first paragraph and draw a conclusion. Your decision should answer all the reader's questions and make him satisfied after reading your text.
How to Write a Short Essay?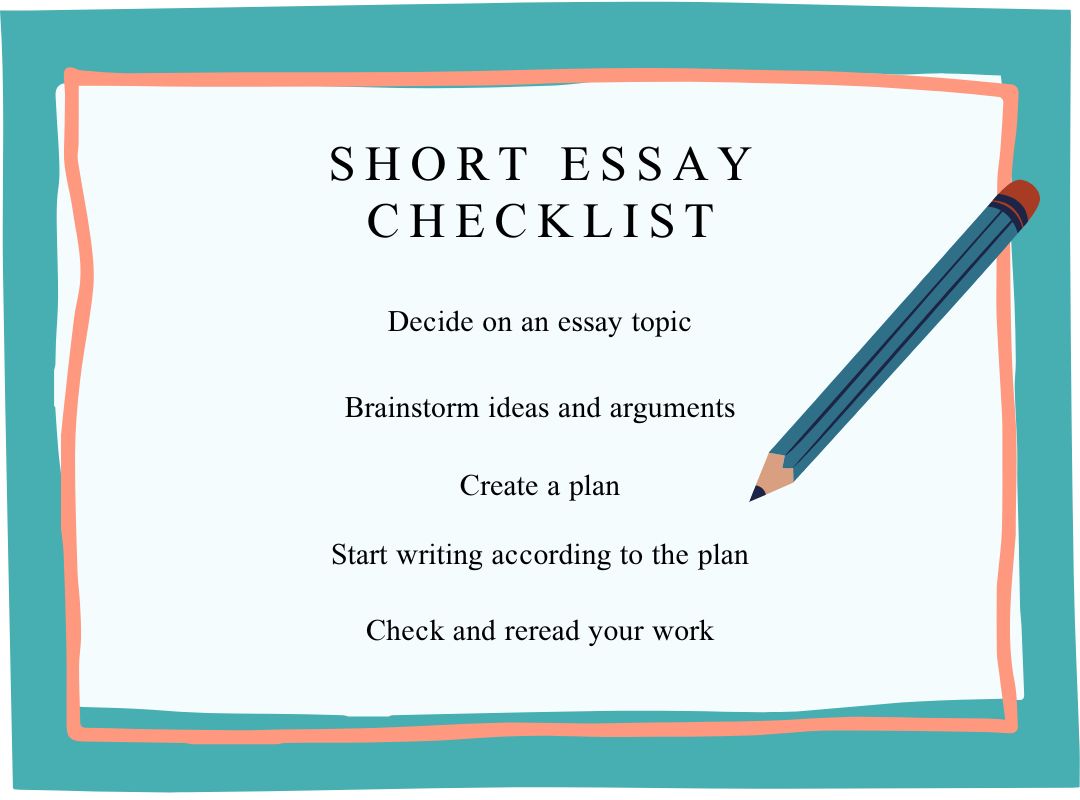 Before starting to write an essay, everyone has a question: where to start? You may write a descriptive, persuasive, or expository short narrative essay. Custom essay writing service will also help writing a short essay perfectly or use APA format short essay and analyze other examples. So, we will tell you step by step how to construct your short essay correctly and will reveal short essay writing tips.
Decide on an essay topic
When a student is tasked to compose a short essay, teachers register their requirements for the job. It is not uncommon to find the number of words the article should contain and the questions it should answer. After reading these short essay guidelines, you can roughly understand the topics on which you can build your essay. Sometimes teachers give a list of topics to choose from, then the task becomes more accessible for the student, and he chooses a topic from the already available ones.
The most important thing is to take your time with writing the work. Think carefully about your topic, and consider whether you can fully reveal it or are competent. Also, we advise you to choose something other than popular topics. Choose an area you are interested in that you can discuss and be confident in your statements.
Brainstorm ideas and arguments
A crucial step is to formulate your ideas and the thesis. The short essay should have a central theme around which the short essay will be built. Think about how your view will sound, which you will present in the paper. You should also clearly articulate your arguments and support them in the main body.
Create a plan
We always advise you to assemble a small short essay outline for yourself. It will help your thoughts to be structured well and help you writing short essays. Outline in a few words what you will talk about in each chapter. So you will follow clear actions and make your work easier.
Start writing according to the plan
You have already outlined an essential thing in each paragraph of the plan. So now, your task is to develop the idea for each chapter. Be confident and precise in your statements: form short, superficial judgments. Also, try to write in an active voice. So your essay will look concise and your beliefs will be clear.
Check and reread your work
A tip that most students always overlook is essay proofreading. Remember this critical step. After writing the text, turn your attention to something else for a few minutes and return to checking the essay. Reread your work clearly, and pay attention to whether you have made grammatical errors or answered an essay question. Our descriptive essay writers could also make things easier for you. Remember to use connecting words between body paragraphs. Use sentences supporting evidence. Also, ensure you have made a word count and check against your limits in the task.
So, we have given you the basic and most essential short essay writing tips. By following them, writing this type of work will be fast and fun for you.
Practical Tips for Writing a Short Essay
Writing a piece is an important and challenging job for a beginner. However, it is easy if you have to know the main points. They are common to all and will be very useful for the first attempts at making your short essay. So, let's take a look at them.
Choose a topic that interests you
The first and most crucial step is to decide on the topic of your essay. We advise you to choose an informative essay topic that interests you. The best option will be a new, not yet popular topic. This is how you will build your essay unique, undoubtedly attracting readers' attention and interest.
Keep your target audience in mind
Don't forget who your essay is aimed at. If you write an essay for a teacher training course, you should understand that you do not need to explain basic information. In cases with other audiences, you should outline and explain what you are talking about at a level everyone can understand.
To compose beautiful and skillful academic writing, you can analyze another short essay example for the beginning. View works on the Internet, explore how the pronouncements are constructed, the composition of the text, and the conclusion. Even reading an ordinary book will be helpful to you and help you formulate determinations and your notions competently and beautifully.
Don't give up if it doesn't work out. Don't give up halfway. Writing an essay requires inspiration and desire. If you can't express your ideas, try to take a break, relax, rest, and start with new energy. You have to believe in yourself and be persistent. Also, remember that after building your short essay, the best reward awaits you – the pride of self-satisfaction.
Conclusion
So, a short essay is a type of work of 200–500 words. It has a clear structure: an introduction, the central part, and an ending. It can be an informative, descriptive, or argumentative essay. We hope to dispel the myth that writing essays in the short format is difficult, and we can conclude that it is not as scary as it seems at first glance. Writing an essay will be easy and fun for you using our tips, which will help you write a short essay. Having prepared well, you will efficiently and quickly cope with this task. The main thing is to follow a clear format and advise on the peculiarities of writing the text.
---