College and high school teachers often assign interview papers to test their learners' planning, paraphrasing, and critical thinking skills. So, besides drafting a well-substantiated and information-packed piece, students must also organize and conduct an interviewing process.
Hence, this assignment is far from straightforward. Quite the contrary, it requires substantial pre-work before the actual meeting. Moreover, the task further complicates if you include several subjects or elaborate on a compelling theme.
What if you can't meet an ideal candidate to elaborate on your topic? How to pose questions that reveal valuable information and present your findings on paper? How to write an interview essay introduction with attention-grabbing ideas that bring up current dilemmas or resolve an issue? There are so many trilemmas spinning around your head.
Fortunately, there's no need to feel intimated or discouraged. This article will help you grasp the basics of an interview paper and how to write an outstanding piece. It will also discuss the steps involved in the writing process and give a few helpful tips that ensure your final product passes with flying colors.
What Is an Interview Essay?
An interview paper is an academic written piece that presents the insight the interviewer gained while interviewing one or several people. It aims to expose different perspectives on a particular topic once the writer gathers relevant data through research. Typically, the essence of the paper will rest upon your findings from the interviews.
The presented viewpoints will depend on the respondent. So, for example, if your paper interview focuses on social media, you might consider talking to an influencer. Conversely, if you're elaborating on a burning social issue, you may want to speak to a local authority. Or set up a meeting with a scientist if you're exploring natural sciences.
The interview paper must help the reader understand a concept backed by relevant statements. Unlike definition essay writing, where you paraphrase and cite trusted sources like scholarly books, the interview paper will stem from authoritative individuals in the respective field.
Finally, you can reap a lot of benefits from drafting interview essays. More specifically, those interested in becoming broadcast journalists, newspaper reporters, or editors will learn to pose thought-provoking questions. Similarly, HR managers will polish their screening ability and hire excellent candidates. Even prospective detectives and inspectors can gain from writing an interview essay. They will formulate a variety of engaging questions to get honest and accurate answers.
Outline and Typical Structure of an Interview Paper
Most essays follow the template of a basic 5-paragraph paper. Yet, the length can vary according to your subject and data availability. A standard interview essay from a custom writing service can range from 2,000 to 5,000 words or up to ten pages. Individual works are usually shorter.
The interview essay format will have an introduction, body segments (perspectives grouped under different subheadings), and a summary. Here's an overview of what to put in each part.
Introduction. The writer needs to create an atmosphere of uncertainty and urgency to stimulate the audience to keep reading. It should also provide background information about the theme and the interviewee. Furthermore, the initial part can list statistics or what society thinks about the respective topic. Finally, your intro must contain a thesis that transitions into the main section.
Body. This part will present the pillars on which you conceptualized your research. If you get stuck while drafting the body, you might hire an online service to write an essay for you and incorporate the gathered data. They will isolate the main points and help you frame the perfect timeline of events.
Moreover, the body should reflect important facts, life periods, and considerations of your interviewees. For instance, you might split your paper into infancy, adolescence, university, marriage, and golden years. Or you might divide your segments according to different discussion questions.
Conclusion. Use the ending part to summarize the interviewee's thoughts and your insights into the matter. You might also compare the available data to the facts collected during the meeting and verify their validity. The bottom line must leave a lasting impression on your audience.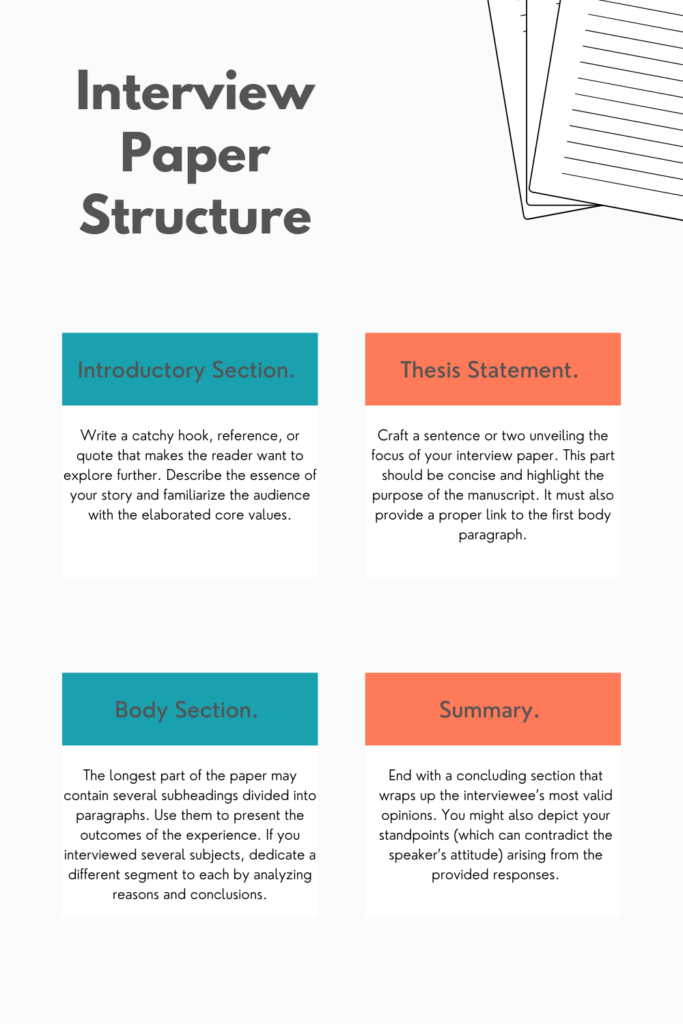 Steps for Writing a Successful Interview
Below is a detailed description of the paper composition journey. Consider each step carefully and be consistent in your approach.
Define the Paper's Objective
Writing an interview paper urges you to establish the overall purpose. You will have to specify the message you plan to deliver. For example, if you want to verify a public opinion, you'll have to question several subjects. Alternatively, proving a natural phenomenon will require a conversation with an expert in the field.
Explore the Subject
Find and prepare printed and virtual materials related to your research. Previous interviews and works by the interviewee are also vital. Unlike rebuttal essays, your primary goal is to gather details supporting your claims. Therefore, brainstorm any note you found based on your predefined criteria.
Pick an Interview Format
Your sample form will depend on the specific theme. Most students decide to buy a literature essay online due to their lack of formatting skills. Here are the various formats you can choose when presenting your findings.
Narrative
This format implies using direct or indirect speech to analyze the storyline. Consider retelling the considerations of the interviewee and citing the original wording. The narrative format is also advisable if you talk to a few interviewees. The structure should contain an intro, a body (each paragraph can describe a particular idea of a single person), and a summary.
Q&A
Question-and-answer essays are ideal when interviewing one person. Most magazines and news reports prefer this type because it is the simplest. Your interview paper will have an intro, different parts for each question and answer, an analysis with your perspective, and a summary.
Informative
Also known as conversational or personal, these papers are informal and take first or second-person narration flow. However, writing in a dialogue form might be confusing and perplexing for an untrained eye.
Formulate the Questions
Make a thorough list of all the aspects you want to discuss and cover in the interview paper. Ask close-ended (yes/no) and open-ended questions that require in-depth responses. If you struggle with your questionnaire, consider the following suggestions:
Share your core values
What would you change in the world if you had a superpower for a day?
How did your childhood impact your personality?
What is the recipe for success?
What is the best aspect of your job?
How do you overcome your deepest fears?
Define happiness with examples
What object do you hold most dear and why?
What is the most significant challenge in our society?
How do you imagine the world's future?
Get in Touch with the Respondent
Make an effort to contact your interviewee/s and be professional when arranging the meeting. You might need to use several communication channels to reach your target person. Focus on scheduling a time that works for everyone involved in the project.
Facilitate the Interview
Choose a peaceful and quiet place without any distractions. Always arrive on time for the meeting. Alternatively, consider setting it up in an online format, if finding a physical location isn't viable. Most importantly, allow the speakers enough time to share their thoughts and maintain an impartial attitude to avoid miscommunication.
Interview Essay Writing Tips
Here's some additional advice for writers taking the first steps toward interview writing.
Stick to Your Teacher's Instructions
Your professor will probably mention the paper structure. For instance, if you receive a classification essay writing guidelines, don't experiment with other formats. Moreover, rehearse the face-to-face meeting with a family member to avoid possible deadens. Here, you might come up with a follow-up question that clarifies some vague points.
Quote and Paraphrase Your Sources
Organize all the details on the background, education, and achievements before interviewing itself. When referring to the topics discussed, cite them properly and give credit. Also, explain the protocol to the respondent and the purpose of the research.
Consider Recording the Interview
The longer the meeting, the more details you'll forget once you finish it. Avoid over-relying on your memory, and bring a recorder. Taking notes is also essential. However, don't record unless the respondent gives prior approval.
Mind These Formatting Rules
Use a font size of 12 in Times New Roman with double spacing. Don't forget to write a title page, too. When including citations longer than 40 words, use block quotes.
Edit and Proofread
Don't expect the first draft to be the best. Reduce grammar mistakes and typos by polishing your initial wording. The final version must be logical, easy to read, and plagiarism-free.
Bottom Line
As intimidating as the interview paper might seem at the onset, these guidelines will help you stay focused and organized. Above all, pick an important topic with questions that affect ordinary people. This way, you can set up and develop the interviews more quickly. Undoubtedly, an A+ grade takes dedication and perseverance to research and write your paper.
---