Obesity is fostered by the environment – there are many things in the modern American way of living that contribute to gaining excess weight. America is not only a rich country but also one of the most progressive. However, it is evident that it is not a country with the healthiest population. Therefore, we can start referring to an obesity epidemic since it is estimated that one in three American adults is overweight. The causes and effects of this are to be researched. These medical statistics are based on a study by the Washington-based Centers for Disease Prevention in the Department of Health and Human Services.
Causes of Obesity
Every phenomenon must have a reason. In order to write a cause and effect essay, you need to analyze the topic carefully to cover all aspects. Obesity is considered to be a complex illness, with a number of factors contributing to its development. These can be:
external;
internal;
hereditary;
hormonal;
social.
As you may have guessed, it is the latter category of causes and effects that we are interested in. At this point, we care about the five ones that have made the biggest contribution.
Product Range
The main cause of obesity is junk food and an unbalanced diet rich in simple carbohydrates, fats, and sugars, plus a bunch of additives. Manufactured, processed, refined, and packaged meals are the most popular. Thanks to advances in technology, Americans have come to mass-produce meals that keep fresh longer and taste better. It takes less time to prepare unhealthy, processed foods in the microwave than it does to cook them yourself.
Stress
Lack of a work-life balance, high stress levels, insufficient sleeping hours, and lifelong education contribute to body weight gain through a sedentary lifestyle. Many Americans work 50, 60, or more hours a week and suffer from a deficit of leisure hours. Cooking processed foods saves them hours and money, even though they end up costing them a lot more – by causing cardiovascular disease. In addition, obese people feel stressed on a regular basis in the United States metropolitan areas. Many of them are simply binge eating under the influence of negative emotions. Chronic overeating leads to a disturbance in the appetite center in the brain, and the normal amount of food eaten can no longer suppress hunger as much as necessary, affecting the body mass.
Food Deserts
The term 'food desert' refers to poor areas (urban, suburban and rural) with limited access to fresh fruit, grains, and vegetables – places where it is much easier to access junk food. A grocery shop in a food desert that sells healthy foods may be 10-15 miles away, while a mini-market or cheap shop that sells harmful snacks is close to the house. In such a world, it takes much more effort to eat healthier, form eating habits, and stay slim.
Everyone's Passion for Sweets
Consuming sweets in large quantities is addictive: the more and easier we give the body energy, the more the brain uses serotonin and dopamine to encourage it – it will make obese people want sweets again and again during the day. Cakes and pastries are fast carbohydrates that easily satisfy hunger and increase body mass. Despite the harm of sweets, obese people experience the need for them to satiate. Sweetened carbonated drinks are one of the main sources of sugar in the American diet. Moreover, some individuals may be more adversely affected by such diets than others: patients with a genetic predisposition to obesity gain body mass faster from sugary drinks than those without it. This leads to childhood obesity.
The Harm of Tolerance
Every year, the body positive movement is becoming more and more popular all over the world. It would seem that this major trend should have freed us from the problems associated with the cult of thinness and society's notorious standards. In many ways, a positive attitude towards the body has proved fruitful. For example, the notion of beauty has clearly broadened. Now on fashion shows and magazine covers, you can see not only a girl with perfectly retouched skin and without a single hint of body fat but also an ordinary person with its inherent features: overweight, wrinkles, hair, and individual skin features. In general, all the things that we are all so familiar with in real life.
Does it really make that much sense? Is this a positive thing in terms of the cause and effect topic regarding obesity? In short, opinions are divided. Extremes aren't easy to overcome. Not everyone manages to do it. Researchers have concluded that due to plus size having become positioned as a variant of the norm, more persons have become obese. Many obese Americans have formed the opinion that it is really quite normal, and they have become oblivious to the damage it does to their health. This is what we are going to focus on next.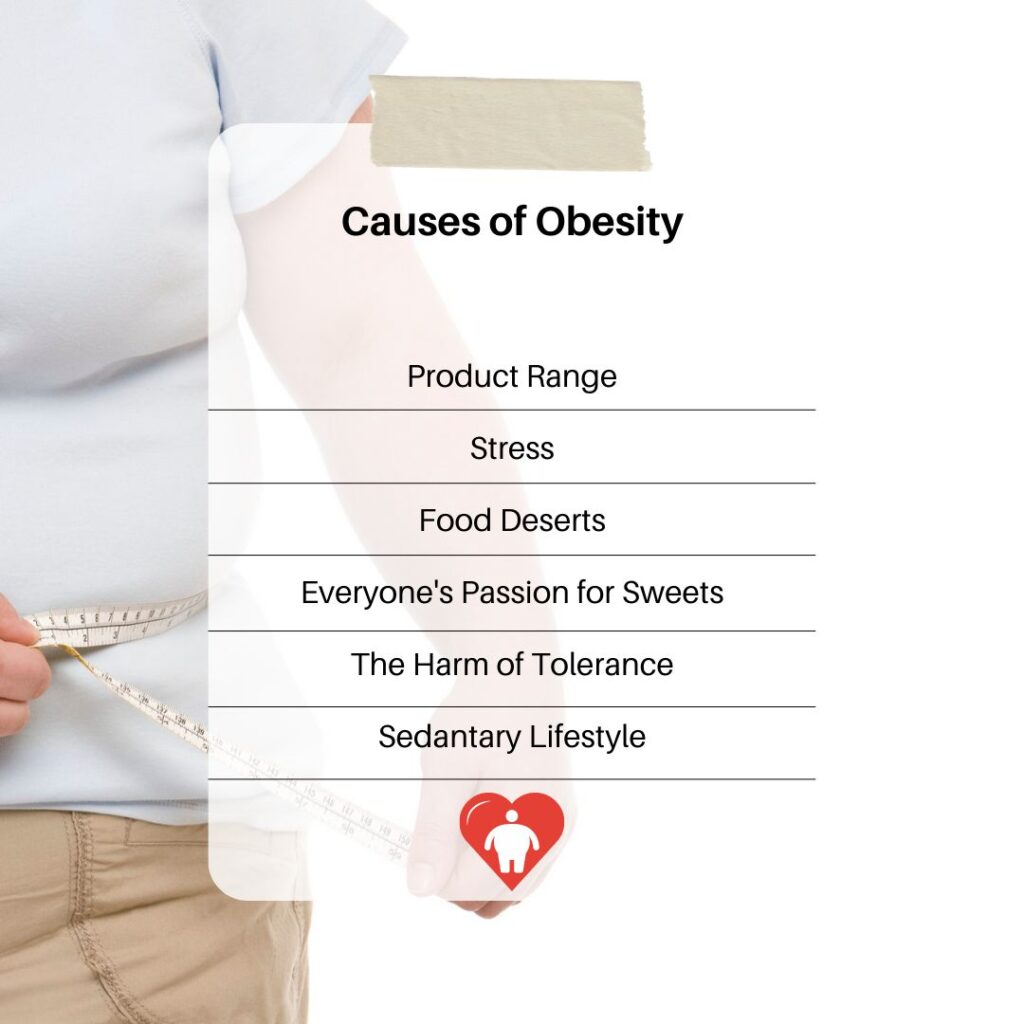 Effects of Obesity
We all know that obesity is dangerous to health. However, medical studies show that most adults are unaware of the number of complications and diseases that obesity in America entails. So they are fairly comfortable with becoming gradually fatter. But indifference is replaced by concern when obesity related diseases begin to occur.
For interesting examples of students writing that also reveal the causes and effects of other phenomena, consult the custom essay service offering essays by professionals. In this way, you will realize the importance of highlighting the effects right after the causes.
Is obesity an aesthetic disadvantage, an inconvenience, a limitation in physical activity or is it an illness after all? How does it affect health, and what are the consequences? The visible signs of obesity are by no means the only complication associated with this condition. Obesity creates a high risk of life-threatening diseases such as atherosclerosis, hypertension, heart attack, myocardial infarction, and kidney and liver problems. Moreover, it can also lead to disability.
Cardiovascular Disease
This is the most serious and damaging impact on the body and blood vessels in particular. Every extra kilo is a huge additional load on the heart. Obesity increases the risk of heart attacks. Experts from the American Heart Association have developed a paper on the relationship between obesity and cardiovascular disease, which discusses the impact of obesity on the diagnosis and outcomes of patients with atherosclerotic cardiovascular disease, heart failure, and arrhythmias. Childhood obesity aggravates the course of cardiovascular disease from a very early age. The fact that even kids and adolescents are obese is associated with high blood pressure, dyslipidemia, and hyperglycemia.
Diabetes
The result is excessive insulin production in the body. This, in turn, leads to an overabundance of insulin in the blood, which makes the peripheral tissues more resistant to it. As a consequence of the above, sodium metabolism is disturbed, and blood pressure rises. It is important to remember that excessive carbohydrate food intake leads to increased production of insulin by the pancreas. Excess insulin in the human body easily converts glucose into fat. And obesity reduces tissue sensitivity to insulin itself. This kind of vicious circle leads to type 2 diabetes.
Effects on Joints
Obesity increases the load on joints to a great extent, especially if one undergoes little or no physical activity. For instance, if one lives in a megalopolis, where all physical activity consists of getting off the sofa, walking to the car, and plumping up in an office chair at work. All this leads to a reduction in muscle mass, which is already weak, and all the load falls on the joints and ligaments.
The result is arthritis, arthrosis, and osteochondrosis. Consequently, a seemingly illogical situation is formed – there is practically no exercise, but joints are worn out harder than in the case of powerlifters. In turn, according to a study by the University of California, reducing body weight reduces the risk of osteoarthritis.
Infertility
In most cases, being obese leads to endocrine infertility, as it causes an irregular menstrual cycle. Women experience thyroid disease, polycystic ovarian syndrome, problems with conception, and decreased progesterone hormone. Obese men are faced with erectile dysfunction, reduced testosterone levels, and infertility. It should be noted that the mother's obesity affects not only her health but also the one of her unborn child. These children are at higher risk of congenital malformations.
Corresponding Inconveniences
Public consciousness is still far from the notion that obese people are sick individuals. The social significance of the issue is that people who are severely obese find it difficult to get a job. They experience discriminatory restrictions on promotion, daily living disadvantages, restrictions on mobility, clothing choices, discomfort with adequate hygiene, and sexual dysfunction. Some of these individuals not only suffer from illness and limited mobility but also have low self-esteem, depression, and other psychological problems due to involuntary isolation by watching television or playing video games. Therefore, the public has to recognize the need to establish and implement national and childhood obesity epidemic prevention programs.
Conclusion
Society today provokes unintentional adult and childhood obesity among its members by encouraging the consumption of high-fat, high-calorie foods and, at the same time, by technological advances, promoting sedentary lifestyles like spending time watching television or playing video games. These social and technological factors have contributed to the rise in obesity in recent decades. Developing a responsible attitude towards health will only have a full impact if people are given the opportunity to enjoy a healthy lifestyle. At the level of the community as a whole, it is therefore important to support people in adhering to dieting recommendations through the continued implementation of evidence-based and demographic-based policies to make regular physical activity and good nutrition both affordable and feasible for all. It is recommended to cut down on the food consumed.
---