Decades before, thoughts or ideas were communicated through letters or direct speech. Now, communicating has become easier since social media debuted. No doubt, it has improved the need to go through life with fewer personal confrontations.
While this is an amazing innovation that spreads news faster, consuming different digital technologies and misuse of social networking has done more harm than good. The increased social platform usage has many adverse results on youths and adults.
This social platform usage has been ingrained into our world today, such that it's almost impossible to communicate if one isn't on any social platform.
As the popularity of social media continues to scale, there's been questions about how it affects the world. That's why in this essay, we'll discuss the causes and effects of social platforms in our society today.
Causes of Social Media Problems
The impact of social media cannot be underestimated. Being connected to people socially has sometimes eased our stress and anxiety and helped us to interact.
Social media plays a significantly positive role in the 21st century as people use it regularly. Given its popularity, social media matters serve as a good cause and effect topic for an essay that is actively discussed online. There's a plethora of online sites —from Facebook to Instagram and Twitter that have proven to be among the benefits of social media.
However, while this technology has streamlined communication which is the primary benefit of social media, it has also negatively impacted society. This form of networking that has now become very valued in communication seems to have several adverse consequences on teenagers, youths, and adults.
The misuse of online platforms as propaganda or discriminatory tool, just to mention a few, has sparked several debates and essays on the causes and effects of social media, as detailed below in this essay.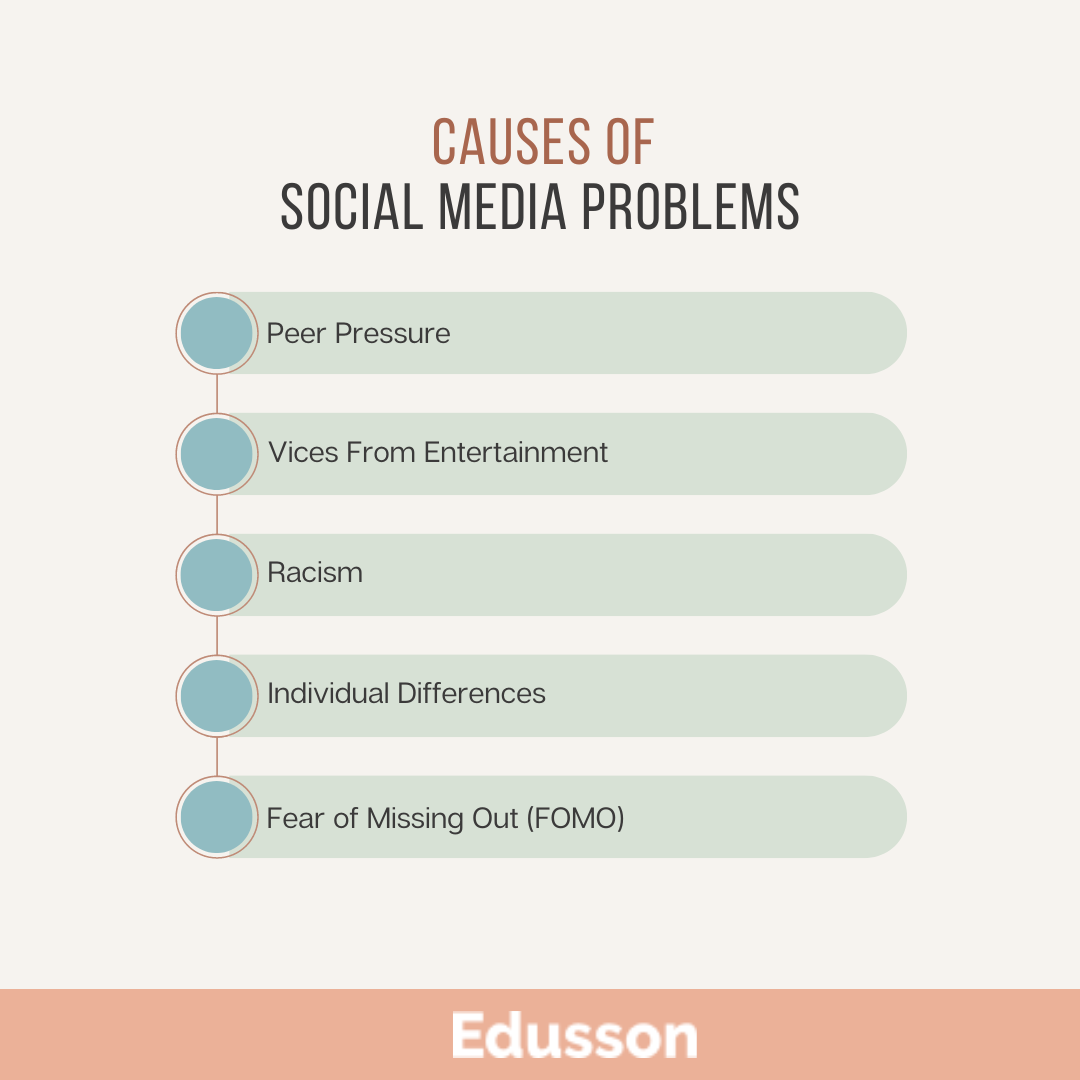 Peer pressure
This is definitely among the leading negative effects of social media. Despite the social media law that has been passed, youths and adults continue to remain active in social media apps usage. In modern times, social media has effectively formed a platform where people can connect and show off their lifestyles with live videos, pictures, or reel posts. Seeing what peers are up to online can influence a person badly. For example, the need to look cool to their buddies has prompted people to indulge in various vices like smoking.
This has led to irrational assessments of others, including increased unrealistic expectations of people. In turn, there has been a rise in insecurities, doubted safety, and health crisis.
There are many ways social media affects our lives and influences our thinking and behavior, especially for young adults. For one, it has led many people to be vulnerable and make risky decisions and choices that have now become an uprising issue worldwide.
To deal with this cause effectively, it's important that you create or emulate positive peer pressure. Parents and guardians also play a huge role in controlling their wards' media. They can do this by regulating their wards' social media, which prevents young adults from seeing content that may cause bad peer pressure. This is a key factor in combating peer pressure on social media. This process also includes looking out for symptoms of virtual peer pressure in people like withdrawal or depression.
Vices From Entertainment
Some content being put out by entertainers daily is another bad consequence online platforms encourage. It has affected people badly and promoted a series of vices such as profanity, nudity or pornography, and drug use, among others.
Furthermore, online platforms have democratized entertainers with large audiences so much that online fans would rather impersonate what they do or say in movies or songs rather than being themselves. This outcome, although not perceived as adverse by the majority, can endanger many followers on social media.
While avoiding seeing some content on online media may be difficult, you can reduce this by constantly taking breaks from online platforms or engaging in educational tasks like essay writing or sports like Basketball.
Racism
The most random memes or videos can unintentionally promote racism. This racial hostility, intentional or unintentional, has, in many encounters, led to aggressive problems on online platforms. This subject has also been covered by several essays on social problems by top online essay writing service that properly discuss its outcomes on people and why it should be avoided. Further, apart from ethnic or racial wars, such insensitivity may cause, these essays also state there are certain problems it causes to affected individuals.
According to Assistant Professor Adam McCready, "Most powerfully, we found out that students reported encounters with racial hostility on social media directly predicted their health outcomes." However, these causes and outcomes on social media have been found in mostly younger people, preventing them from properly paying attention to their daily school work, like essays.
Individual Differences
Unfortunately, individual differences are one of the many causes and effects of social media problems. Haughty people tend to be abusive while "proving points" on the internet. This sometimes results in insults or even racial slurs on online platforms.
Thus, giving social media users on platforms like Instagram the ability to be vile to one another or to prove or share certain points. It has also increased many behavioral problems on social media and may result in violence in reality.
Fear of Missing Out (FOMO)
Since online media is accessible, it has become an easy way to snare attention for a long time, prompting people to frequent online platforms like Twitter or Instagram to share or post.
The interconnectivity, round-the-clock and constant alerts that FOMO causes affect people's concentration and focus. A great example of a cause and effect essay about social media explaining FOMO is employees with social media accounts. Rather than spend time on job tasks, many have developed the habit of checking their accounts multiple times daily. Sadly, this has resulted in bad time management and affects workflows regularly.
Social Media Effects
There are currently several negative effects of social media that affect people's lifestyles, and need to be mentioned in this essay. In fact, the current negative outcomes of social media are growing rapidly.
The main purpose of this essay is to highlight the many disadvantages of online platforms in an open document and see why the younger generation takes social media too seriously.
As mentioned earlier, online platforms can impact teens in a negative way by distracting them or exposing them to unrealistic views. Positive measures like cause and effect writing on social media problems promote building online networks to solve this problem. Some impacts of social media are detailed below.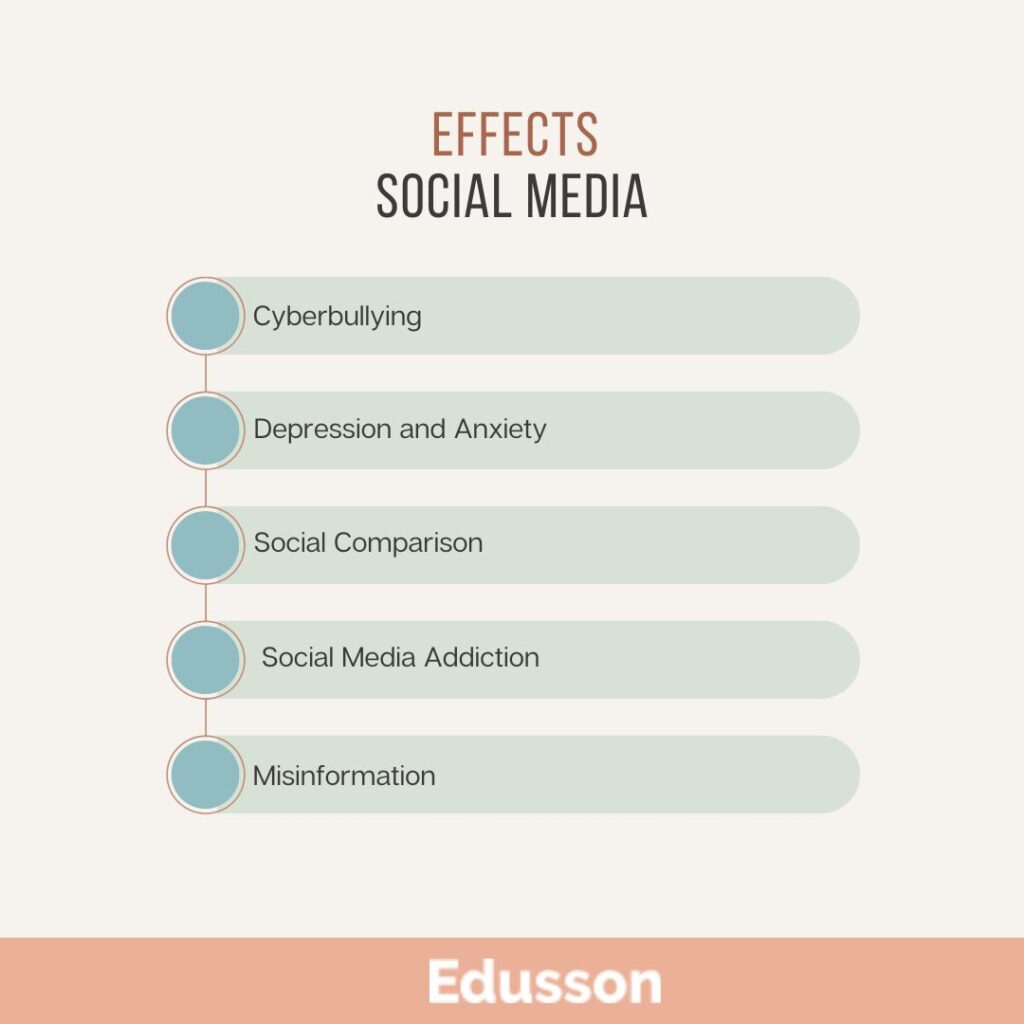 Cyberbullying
Cyberbullying is one of the disturbing effects of social media. It involves using the internet to harass, embarrass, or target other people. This includes sending hurtful texts, posting embarrassing videos, or spreading rumors online.
As it turns out, cyberbullying doesn't affect teens alone. Many adults can also be victims of online abuse. While online platforms make making friends easy, it also encourages online bullying with people being anonymous, so it creates privacy issues too.
There are several consequences of cyberbullying experiences, from being vulnerable to feeling depressed or suicidal. However, to curb this cyberbullying situation, all accounts and devices should be protected. People must also refrain from responding to online bullies.
It's also imperative to educate people about the effect of cyberbullying and read essays that discuss the impact of social media.
Depression and anxiety
Many trends about being visible on every media social platform have led to severe responsibilities in young adults.
Further, being insulted or bullied online can cause depression and anxiety. Likewise, luxurious lifestyles shared on online platforms or well-to-do people calling people "broke" can make such people feel they are not doing well in real life, which can result in depression.
Social Comparison
Social comparison is the next effect we'd like to focus on. It occurs when people compare the daily life of others with their own. But they don't consider that many people post only the highlights, such as achievements and greatest moments, rather than mundane activities that make up most of their typical day.
Nevertheless, people comparing their face and lives to the idolized version of others can cause an inferiority complex.
Social Media Addiction
Similar to drug use, the excessive use of certain activities can trigger dopamine to recreate feelings of pleasure and reward.
While there's no harm in using online media applications regularly, the process of scrolling and receiving information faster is a part of the triggering social media problems. Information on how to avoid using social media excessively, which is often presented in an essay on the topic, can help addicted people to minimize negative outcomes like disrupted sleep, procrastination, reduced real-world interaction, and slacking on tasks.
Misinformation
The last effect of social media platforms is allowing an easy spread of misinformation on every online website. This is due to the ease of access and the speed at which information diffuses across the media. Misinformation on the web can make people lose opportunities, miss important deadlines like submission of college essays, or even cause mental problems!
Conclusion
This essay has highlighted some of the major causes and effects of social media problems. The causes include peer pressure, entertainment vices, and individual differences, while depression, cyberbullying, and misinformation belong to the effects.
These causes and effects deviate from the primary purpose of social media – building relationships, connecting people, and helping communicate. To avoid the stated negative outcomes, people must acknowledge them and carry out actions to prevent them.
---