When it comes to write an essay and formating a paper, we live with the constant fear that nothing we do will be good enough for that holiest of all grades – an A. More often than not, we turn in a quality paper by our standards, but find that our professor has an entirely different expectation in mind.
This eBook was created to help you enter the mind of your professor – perhaps, with a little understanding, you can aim your papers toward his or her expectations.
---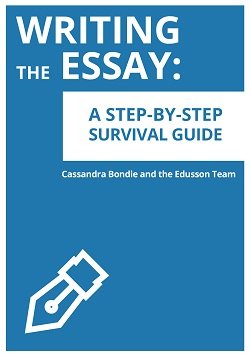 Book Details
File Size: 182 KB
Print Length: 26 pages
Publication Date: March 25, 2016
ISBN: 9781508038283
Language: English
Price: $0.99
Edition by: Cassandra Bondie and Edusson Team
---
Buy Here
Amazon • ITunes • GooglePlay • Barnes & Noble • Kobo • Google Books
---
CONTENT
An Introduction
An Open Letter to You: The Student
What to Expect as You Read
Necessary Time Management Skills
Concluding Thoughts
Section 1: Mastering Your Subject: The First Step
Six Unbeatable Research Tips
FAQs: Finding the Right Angle
Generating a Bibliography in Four Easy Steps
Section 2: Formatting a Rough Draft: The Writing Process
The Seven Rules of Using MLA Format
Why You NEED an Outline
Writing the Draft
Section 3: The Editing Period: Completing Your Work
Eight Mistakes You've Probably Made
The Three-Step Editing Process
Polishing Your Final Piece
---
In three easy sections, we're going to walk you through the process of writing an "A" paper. If you follow all of these instructions to a fault, you'll find that it isn't as difficult as you originally believed to achieve a perfect score. It's all about the outlook. It's all about what you know.
When you're done, you're going to know an awful lot.
Good luck!
Our highest-rated tutors & writers for hire

Dr. Joshua

Mandy

Teresa

Valerie
---